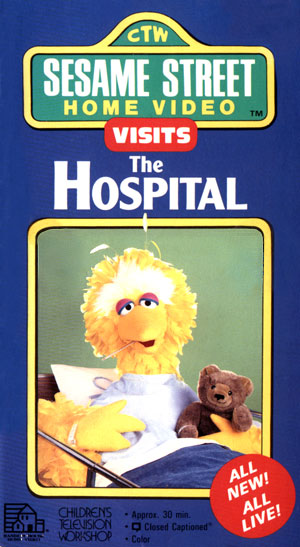 In this video from 1990, Big Bird gets sick so Maria takes him to the hospital. At first, Big Bird hates it there, even getting angry at Maria for taking him there. However, by the time he's well, Maria has a hard time getting him to leave.
Two new songs appear in the video: "Busy Getting Better All the Time" and "You Gotta Be Patient (To Be a Patient)."
Credits
Puppets, Costumes, Props: Caroly Wilcox, Barry Link, Mark Zeszotek
Music by: Christopher Cerf, Paul Jacobs
Lyrics by: Tony Geiss, Sonia Manzano
Music Coordinator: Danny Epstein
Production Designers: Bob Phillips, Victor DiNapoli
Costume Designer: Bill Kellard
Set Decorator: Nat Mongioi
Production Assistants: Paul Lacy, Christine Ferraro, Tim Carter, Adam Davidson
Assistant to the Producer: Danette DeSena
Sound Effects: Dick Maitland
Cameras: Frank Biondo, Dave Driscoll, Tom Ucciferri
Director of Research: Valeria Lovelace, PhD
Vice President of Production: Franklin Getchell
Publisher, Random House Home Video: Sharon Lerner
Other releases
Notes
Community content is available under
CC-BY-SA
unless otherwise noted.