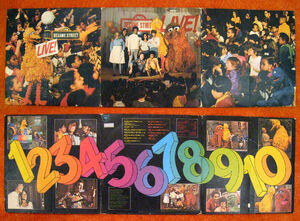 Released in 1973, the first edition of Sesame Street LIVE! featured a unique package design that included a quad-fold record sleeve. The front of the sleeve contained a cut-out of Big Bird standing next to the Sesame Street lightpost which, when opened, would fold over and create a new scene with the picture on the other side. The packaging also included a large poster, created by Terry Anderson, featuring the lyrics to all of the songs, as well as cartoon drawings of the characters. In 1976, this album was released on a set of consecutively numbered 45's. A book of sheet music of songs from the album was available separately. This album reached #211 on Billboard's Bubbling Under the Top LPs chart. It won a Grammy Award for Best Recording for Children. In 1977, the album was reissued as Concert: On Stage-Live!.
Track listing
Side One
Side Two
Note
The first pressings of this album have a custom label that looks similar to the subsequent Sesame Street Records label. Later pressings have the standard red Columbia label.
This was the only album recorded during Hal Miller's tenure as Gordon.
Other releases
International releases
Cast
Production credits
Album Produced By Joe Raposo
Written and Directed By Jeffrey Moss
Live Show Produced By David Connell
Project Director: Christopher Cerf
Musical Director: Joe Raposo
Music Coordinator: Danny Epstein
Assistant To The Music Director: David Conner
Production Coordinators: Lynn Klugman, Joan Lufrano, Jacquie Turner, Geri Van Rees, Evangeline Vaughn
Properties Director: Nat Mongioi
Banner and Crepe Hanging/Supervised For Columbia Records By Arthur Shimkin
Studio Control And Editing By James Timmens
Engineering By Frank Laico and Arthur Kendy
Album Concept & Design: Pacific Eye & Ear
Poster Illustration: Jerry Anderson
Photography: Judy Ross & Sandy Speiser
1977 reissue
See also
Community content is available under
CC-BY-SA
unless otherwise noted.