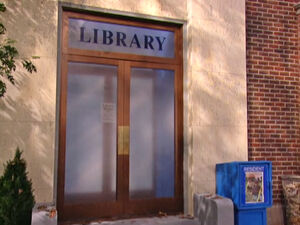 The Sesame Street Library is a common point of interest on Sesame Street, staffed by a number of Librarians.
It first opened in Episode 0290 (1971) and was originally located next to Hooper's Store, in the spot that has since housed the Fix-It Shop and Mail It Shop. Known as the Lending Library, there were books both indoors and outdoors, and there was also a large children's section. All the residents of Sesame Street would come to borrow books. Maria worked there as a part-time job when she was still in school, while Grover would often come and help out.
Later, when the Fix-It Shop came along, the library shifted to other locations; in particular, the one in which Linda worked. Some of them, as seen in various storybooks, were a enough of a distance from Sesame Street that a certain amount of traveling was required to reach them. Linda's assistants have included Micki, Lisa, and Tico. According to Episode 2546, the library is open from 9 AM to 5 PM Monday through Saturday.
In Season 38, the library was located eight paces from the front of the Fix-It Shop (Episode 4135) and was shown to be directly next to the Subway entrance in One World, One Sky: Big Bird's Adventure.
In 2004, the Sesame Street Library was immortalized in board game form as the replacement for States Avenue in a Sesame Street edition of Monopoly.
Book appearances
See also