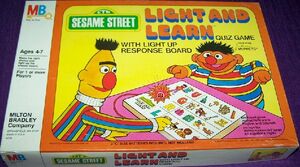 Produced by the Milton Bradley Company in 1981, this was the first in a series of Sesame Street light and learn games. The object of the game is match a letter to words that begin with it. If you are incorrect, the red light flashes and buzzes.
Michael J. Smollin provided the artwork for the game.
In 1986, Milton Bradley released another version of the Sesame Street Letters and Number Light & Learn game. Like the earlier version, the game had 10 two-sided learning cards which fit into a tray. Children answered simple questions about letters and numbers by fitting the Big Bird probe into holes next to the possible answers. If the answer was correct, Big Bird's sign would light up.
Both learning toys were intended for children ages 3-6.
Community content is available under
CC-BY-SA
unless otherwise noted.