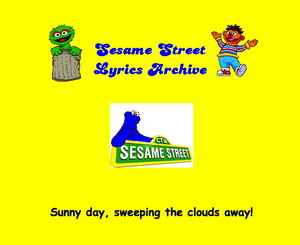 The Sesame Street Lyrics Archive is a website created and maintained by "Tiny Dancer". The site, which first launched in April 1996, contains lyrics to hundreds of Sesame Street Songs, along with transcripts of a number of Sesame Street Sketches. It also includes a number of video clips of both songs and sketches.
In addition to Sesame Street related songs, this page also features lyrics to a number of Muppet Songs (mainly ones featuring Kermit the Frog) as well as songs from The Electric Company. Lyrics are also available for "When Muppets Cry", a fan-written tribute song about Jim Henson which spoofs the song "American Pie".
Songs can be accessed in alphabetical order, by album, or by the character performing them. On the pages listing the songs, a brief description of the song or sketch is included next to the links to the lyrics. The various song pages also include lists of what albums and videos they were released on (if any were released), similar to the "Video Releases" and "Album Releases" sections of many Muppet Wiki song or sketch pages, though unlike Muppet Wiki, these pages also include images of the video and album covers in the lists. In addition to the published lyrics, there is a help wanted area for incomplete or missing songs.
The site holds no copyright over the lyrics published on the site nor have they been sanctioned by Sesame Workshop; however in more than 10 years on the web, no legal action has been brought on the site or its owner. Most of the lyrics are self-transcribed by ear and occasionally include misheard or inaccurate lyrics. Additionally, several of the song titles and names are purely fan-created and unofficial titles for the songs, as the author of the site does not know the actual song title.
External links