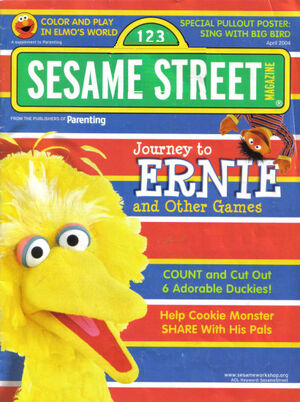 April 2004: "A Child's Work is Child's Play" is the theme of this issue of the magazine, which heavily features Ernie. Joel Schick, Joe Ewers, Linda Davick, Magic Eye Studios, David Dees, Sachiko Yoshikawa, Bob Berry and Colleen Pidel provided illustrations for this issue. This issue also includes content from Sesame Street Sign Language ABC with Linda Bove.
Big Bird --- Where is Ernie Going to Hide Today?
Ernie's Colorful World
Who Took the Cookies from the Cookie Jar?
X Marks the Spot
6 - Having a Ball
Play With Me Sesame --- All About Ernie
You Found me! - Pullout Poster with Ernie, Big Bird and Rubber Duckie
Elmo's World of Games
Global Grover - What's All the HOOP-la?
Sesame Safari - Jaguars
Dragon Tales - A Tree-mendous Day - Arbor Day with Cassie and Ord
Big Bird's Fridge
Global Grover Calendar - April 2004 - Trinidad and Tobago
Community content is available under
CC-BY-SA
unless otherwise noted.