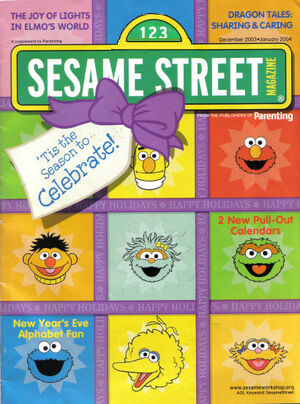 December 2003 and January 2004: "Memory Games" and multicultural celebrations are the theme for this holiday issue of the magazine. Stef de Reuver, Karen Katz, Maggie Swanson, Joe Mathieu, Cynthia Jabar, Donna Reynolds, Mc Neel Studio, The Thompson Brothers, Colleen Pidel and Ajin provided illustrations for this issue. This issue also includes content from Sesame Street Sign Language ABC with Linda Bove.
Home for the Holidays
Happy Winter!
Elmo's World of Lights
Global Greetings --- Global Grover Pullout Poster
Sesame Safari --- Dogs
Y - Y Family Yawns, with Cookie Monster
Dragon Tales - Bright Badges (Sharing with Others) (art: Thompson Brothers)
Big Bird's Fridge
Community content is available under
CC-BY-SA
unless otherwise noted.