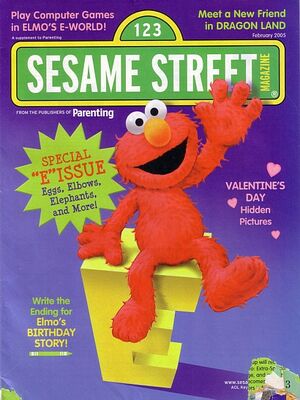 February 2005: Beginning with this issue, the magazine experiences a stylistic change. Whereas previous issues features a glossy front and back cover, the front and back of this and future issues are printed on the same style of paper as the rest of the magazine.
This is an issue devoted to the letter E --- "Eggs, Elbows, Elphants, and More!" Maggie Swanson, Ron Zalme, Guy Smiley, David Dees, Ernie Kwiat, Tom Brannon, and Colleen Pidel all provide illustrations for this issue. This issue includes story content by Leslie Kimmelman and Brian McClintock.
This issue featured the first appearance of the Happy Healthy Monsters calendar. In the area outside Sesame Street, the feature ¡Hola, Enrique! serves as an introduction to a major new character on the series Dragon Tales. Enrique was introduced to the program in a third season that premiered after a hiatus of well over two years between new episodes of the program. The new season premiered in the same month as the date of this magazine, February 2005. This feature included a maze and a cut-out of Enrique.