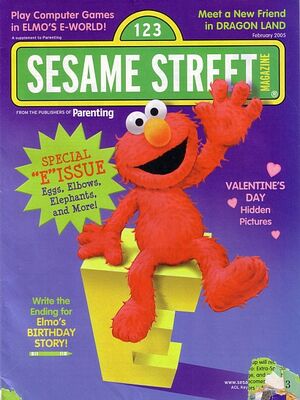 Valentine's Day and friendship are the themes of this issue. Tom Brannon, David Dees, Jerry Smath, Tim West, Joe Ewers, Paul Meisel and Colleen Pidel provided illustrations for this issue. Leslie Kimmelman, Mary Buri and Lauren Sadowski provided story/poem content for this issue. Some photo / illustration content in this issue was lifted from the book Sesame Street Sign Language ABC with Linda Bove. This issue is brought to you by the letter F and the number 2.
Includes a mini-poster called Slide Up, Down and Around featuring Elmo and Zoe.

Books on Big Bird's Fridge include How Do I Love You? (written by magazine contributor Leslie Kimmelman), Frog and Toad Are Friends and the Sesame Street book My Funny Valentine.
The "How Does It Feel to Be...?" page features some of the characters doing things that they normally wouldn't do. For example, Bert imagines taking a bath.