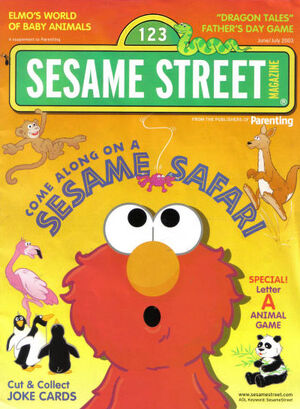 June/July 2003: Sesame Safari - an entire issue devoted to animals. Richard Termine, David Dees, Maggie Swanson, Linda Davick, Donna Reynolds, Lynne Cravath, Joe Ewers, Bob Berry, Ernie Kwiat and Colleen Pidel provided illustrations for this issue. This issue also includes content from Sesame Street Sign Language ABC with Linda Bove.
Big Bird Likes Trees
Sing Like a Bird, Snuggle Like a Chimp
A - Act Like an Animal!
8 - We're Nosy!
Lost & Found with Super Grover
Play with Me Sesame - Hide 'n' Seek
Sesame Safari - Flamingos Pullout Poster
Elmo's World of Baby Animals
Dragon Tales - Father's Day Treasure
Stepping Out
Did You Know? - The Fourth of July and the Bald Eagle
Big Bird's Fridge
Community content is available under
CC-BY-SA
unless otherwise noted.