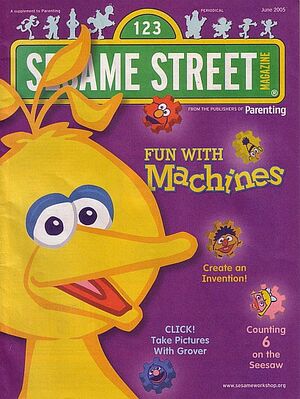 June 2005: "Getting in Gear" is the theme for this issue, which explores machinery. The opening notes encourage parents to remind children that many machines require special training to use. Ron Zalme, Maggie Swanson, Rick Wetzel, Grace Lin, Donna Reynolds, Colleen Pidel and David Dees. provided illustrations for this issue. This issue also includes content from Sesame Street Sign Language ABC with Linda Bove.
Say Cheese, Everybodeee! Mini-Poster
Marvelous MACHINES
S - Soap Opera
6 - Up (& Down) With 6
Elmo's World of Telephones
My Car by Byron Barton
We're Builders, Too
Sesame Safari - Elephants
Play with Me Sesame - Bang! Crash! Plink! Plink!
Dragon Tales - Hats Off to You! with Zak and Wheezie
Happy Healthy Monsters Calendar - June 2005 - I'm a Clean Machine!
Big Bird's Fridge
Community content is available under
CC-BY-SA
unless otherwise noted.