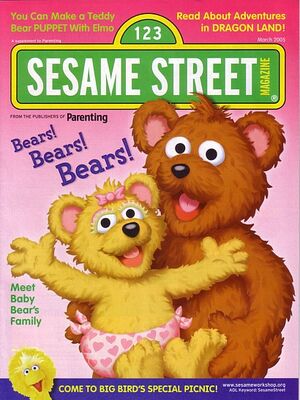 February 2005: A celebration of bears, with an emphasis on Baby Bear and family. Includes a brief profile of David Rudman, the man behind the bear, on the masthead page.
Cover by David Dees
Baby Bear says... with Baby Bear, Papa Bear, Mama Bear, Curly Bear
"My, You've Grown!" - bear photos and Curly Bear being measured (art: Ernie Kwiat)
Teddy Bear Picnic - A picnic for Big Bird's friends and their stuffed companions; includes Radar, Telly Monster and Freddy, Herry Monster and Hercules, Elmo and David, and Zoe and Mimi (art: Maggie Swanson)
Bears Everywhere - different bears and other animals starting with B; illustration by Tiphanie Beeke
The 3 Bears -- Poem by Leslie Kimmelman, art by Yuri Salzman
Sesame Safari: Bears - photo feature
Play with Me Sesame - Teddy Bear, Teddy Bear; Grover pretends to be a teddy bear (art: Tom Brannon)
Elmo's World of Teddy Bears
Dragon Tales - Enrique and the Magic Storybook
Happy Healthy Monsters Calendar --- March 2005
Big Bird's Fridge
Bear Hugs for Big Bird - Photo of Big Bird and Radar
Community content is available under
CC-BY-SA
unless otherwise noted.