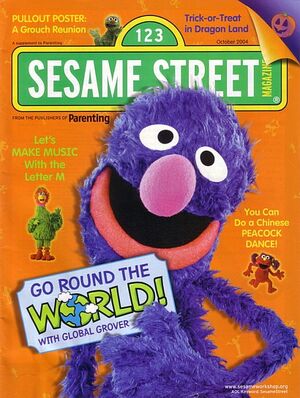 October 2004: "A Window to the World" is the theme for this issue of the magazine. This issue of the magazine is specially designed to introduce readers to international Sesame Street productions. Global Grover is the readers' guide to help them see the view beyond their backyard. Ernie Kwiat, Cynthia Jabar, Christopher Corr, Anita and Steve Shevett, Dagmar Fehlau, Stef de Reuver, Joe Ewers, Paul Meisel, Colleen Pidel and Bob Berry provided illustrations for this issue. This issue also includes content from Sesame Street Sign Language ABC with Linda Bove.
Community content is available under
CC-BY-SA
unless otherwise noted.