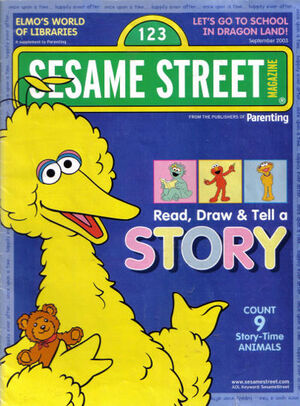 September 2003: This issue is focused on storytelling and also on helping kids get ready to go to school. David Dees, Eduardo Patino, Maggie Swanson, Joe Mathieu, Robin Spowart, Dave Klug, Colleen Pidel, Yuri Salzman, Tom Lynch and Bob Berry provided illustrations for this issue. This issue also includes content from Sesame Street Sign Language ABC with Linda Bove.
Oh, Oh, Opposites!
F - Fairy Tales Are Fun
Sesame Safari - The Tortoise and the Hare
Once Upon a Time Pullout Poster
Play with Me Sesame - A Monkey's Tale
Elmo's World of Libraries
Global Grover - Anansi & Turtle: An African Folktale
Dragon Tales - Let's Go to School! ¡Vamos a la escuela!
Big Bird's Fridge
Every Picture Tells a Story - Elmo and Mary's Little Lamb painting by Will Moses
Community content is available under
CC-BY-SA
unless otherwise noted.