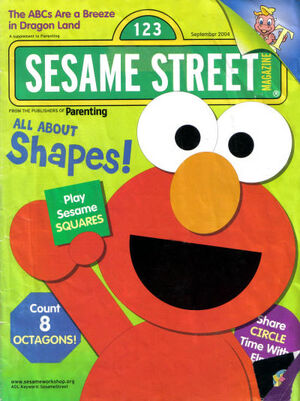 September 2004: "Shape Up for School!" is the theme for this issue of the magazine. The opening note includes tips for helping children to get ready to go back to school. It notes that learning shapes is in an important stepping-stone to mastering math. Joel Schick, Tom Brannon, Linda Solovic, Ernie Kwiat, Tom Leigh, Sue Heap, Bob Berry, Colleen Pidel and David Dees provided illustrations for this issue. This issue also includes content from Sesame Street Sign Language ABC with Linda Bove.
Big Bird Plays at the Playground
Meet the Shapes!
8 - Stepping-Stones
Elmo's World of Circle Time
Sesame Squares - Pullout Poster - Game Show Parody
Global Grover - The Wheels on the Bus
Play with Me Sesame --- Even a Poem Can Have a Shape
Sesame Safari - Giraffes
Dragon Tales - When the Wind Blew - Search for the Alphabet
Big Bird's Fridge
Global Grover Calendar - September 2004 - Egypt
Do You Know... (Who is Getting Ready for School?)
Community content is available under
CC-BY-SA
unless otherwise noted.