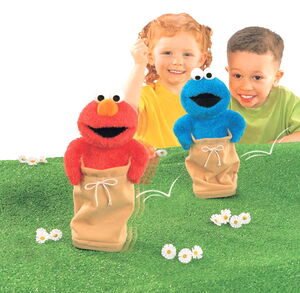 Sesame Street Potato Sack Racers is a Sesame Street toy line made by Fisher-Price in 2002. The toys can bounce in a (more or less) straight line, and can be set up to race each other.
The American version of the Potato Sack Racers featured Elmo and Cookie Monster; the German Sesamstrasse line also included an Ernie and Bert two-pack.
Promotion
A plastic figure of the Elmo toy was included in a line of McDonald's Happy Meal toys in 2003.
Source