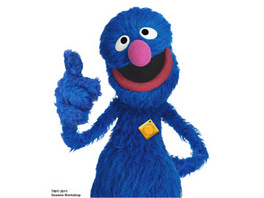 In support of the UN's Decade of Action for Road Safety, Grover will serve as a "Road Safety Ambassador" to help raise awareness and promote safe road practices. At a Make Roads Safe event taking place in London in April 2011, Grover introduced a series of Sesame Street public service announcements, developed in partnership with the FIA Foundation. The spots have been broadcast on stations throughout the world since May 11, 2011.
The nonverbal PSAs feature an animated Grover in different scenarios shown buckling up or putting on a helmet, and then giving a thumbs up. Grover will be wearing the official international road safety symbol—a yellow Road Safety tag to show his support to the road safety cause. The three PSAs, animated by LA-based Rubicon Studios, were distributed to broadcasters in Africa, Asia, Europe, Latin America and the Middle East. The PSAs were intentionally animated with no dialogue so they could be shown anywhere without having to be dubbed in each country's native language, though Grover does have a few vocal effects provided by Eric Jacobson. An additional PSA, featuring Elmo and his dad, was created in 2013 in conjunction with Australian child safety advocates Kidsafe, the TAC, RACV and Holden.
In addition to the PSAs, Sesame Workshop and the Global Road Safety Partnership are jointly developing a Road Safety Education Framework intended as a practical guide for Road Safety educators, parents and practitioners who are developing content, educational materials and communication strategies to help children understand the risks associated with travel on or near the roads, and to internalize and implement safer behaviors around roads and vehicles.
External links
Community content is available under
CC-BY-SA
unless otherwise noted.