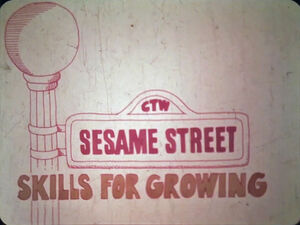 Sesame Street Skills for Growing is a series of educational filmstrips produced by Guidance Associates in 1976.
A total of thirteen strips were released, each approximately eleven to fifteen minutes long.[1] They starred the Sesame Street characters in an illustrated story, with voices provided by the Muppet performers. The films were grouped in four sets, focusing on the emotions of children and how they can cope with them.
Learning How to Solve Problems
(Written by Daniel Wilcox and Jesse Levine, illustrated by Linda Boehm)
Herry Monster alerts his Monster Scout troop of their latest project: good deeds. Cookie Monster sets out to do three good deeds -- motivated by the prize of a box of cookies. Around Sesame Street, he helps a little girl who has difficulty retrieving her toy sailboat, two kids who cannot tell their puppies apart, and a little boy who has lost his party balloon.
(Written by Nina B. Link, illustrations by Jon McIntosh)
Ernie has difficulty falling asleep, and deduces that the fumes from the freshly-painted bedroom are the reason. Despite Bert's doubts, Ernie decides to sleep in the backyard. He plans out what to bring with him, what certain noises are surrounding him (including a mysterious figure) and how to get to sleep. In usual fashion, Bert is kept awake and thoroughly annoyed.
Sherlock Hemlock's Problem-Solving Service (YouTube)

(Written by Peter Solmo, illustrations by Fred Harsh)
Sherlock Hemlock expands his business to not only solving mysteries, but problems as well. With the assistance of Cookie Monster, the two figure out how to get Grover down from a tall tree and how to open Sherlock's locked office door without the key.
Learning to Use Your Mind
(Written by Daniel Wilcox, illustrations by John Hull)
Oscar asks a girl named Marjorie to go to the market for him, but she has to remember the list of items he needs. They work out a system of remembering based on what the items will be used for (a kite). Oscar needs more items, so Marjorie makes up a song to recall the remainder of the list. At the market, a grocer provides the items for Marjorie, but being a grouch market, they don't provide a bag, and she's forced to carry everything back in her arms. When Oscar receives the items, he can't remember what he was going to use them for. Marjorie reminds him that he was going to build a kite.
Oscar Builds a Snake House (YouTube)

(Written by Peter Solmo, illustrations by Marc Nadel)
Grover plans to make a doghouse for his pet Rover. Oscar's pet snake Slinky wants a home of his own, but Oscar thinks that it'll be an easy task. He challenges Grover that he can make the snake house before his and Grover's separate playdates. While Grover is successful in completing the doghouse, Oscar ends up wasting time by not planning, making multiple houses, and upsetting Slinky.
(Written by Peter Solmo, illustrations by Joseph Veno)
On a very hot day, Ernie, Bert, Cookie Monster, and Sherlock Hemlock all agree to visit Herry Monster at his beach house to cool off. With Sherlock's "aid" (by Bert's suggestion), they remember where Ernie's red wagon is that will carry all their beach stuff. On the way, the gang gets lost. The directions from a nearby fisherman are too complicated to follow, and Ernie is too embarrassed to ask for them again. After Bert suggests writing the directions down next time (as he has), they get further directions from Herry's neighbor when Herry isn't at his home; this time, Cookie writes the complicated directions to the beach with paper and pencil. Upon arriving at the beach, they ask more questions about the beach's safety rules to the lifeguard: Herry.
Learning About Others
Sesame Street 4th of July (YouTube)

(Written by Peter Solmo, illustrated by Claude Martinot)
The Sesame Street gang (led by Herbert Birdsfoot) gathers on and around the stoop to plan how to celebrate Independence Day. They settle on a parade and decorating the street, but Oscar immediately protests the idea. The Count convinces him to lead the marching band, since he loves playing the loud drums. Meanwhile, Biff and Granny Fanny Nesselrode (voiced here by Richard Hunt) argue on how to paint the float; Big Bird suggests a compromise. Later, Grover (with his flute), Guy Smiley (as bandleader), and Oscar all want to lead the parade, but decide they will line up together at the head of the parade (ala The Spirit of '76).
Various Muppet characters make cameos during the filmstrip, including Hardhead Henry Harris (who has a prominent role at the beginning of the story), Prairie Dawn (voiced by Marilyn Sokol, erroneously with a Spanish accent), Betty Lou (who suggests putting on a pageant), and silent cameos by Harvey Kneeslapper, Suzetta Something, and Roosevelt Franklin.
(Written by Dan Wilcox, illustrated by Marcia Goldberg)
Oscar's cousin Leon (Jim Henson) comes to visit from Grouchville. As he makes his way to Sesame Street, he is surprised to learn how everything is so different from how they would treat each other in Grouchville. Leon discovers that things run more smoothly when people are nice at the bus stop (and on the bus). He even helps out the local kids with their baseball game, and aides an elderly woman who helps him across the street. Once he arrives at Oscar's can, Leon is chided by his cousin for his unexpectedly nice behavior.
The Cattle Rustlers
Lost in the Woods (YouTube)

(Written by Peter Solmo, illustrations by Linda Boehm)
After a trip through the woods, Big Bird, Oscar, Ernie, and Bert figure out how to get back to Sesame Street. They run into Prairie Dawn camping with her scout troop; she helps them find the paths leading out. Oscar is oblivious to Big Bird's feelings after finding a garter snake and wanting to use a path with low-hanging branches. The others get Oscar to empathize with Big Bird by imagining how he would feel in similar situations.
Learning About Yourself
(Written by Peter Solmo, illustrations by Joseph Veno)
Ernie becomes discouraged when he attempts to be a champion ice skater -- especially since he can't stand up on his skates and Bad Barney keeps picking on him. With Bert's encouragement, the two return to the pond where Granny Fanny Nesselrode and an expert skater help Ernie not to give up.
(Written by Peter Solmo, illustrated by Elissa Della-Pianna)
Oscar tags along with Herry, Grover, and Cookie Monster on their way to have lunch at the zoo. They confront their angry emotions when they get on the wrong bus, and when Grover is ignored when he wants to see his favorite exhibit. Oscar copes after Cookie Monster forgets to bring Oscar his lunch bag, and everyone realizes that it does no good when they quarrel over the weather.
(Written by Nina B. Link, illustrations by Jon McIntosh)
While on a hiking trip, Big Bird, Cookie Monster, Grover, and Farley learn new skills from each other and are proud of what they can do. Farley tries riding Grover's bicycle, Cookie struggles not to eat his snacks until after the hike, Big Bird figures out how to find his way back after getting lost, and Grover learns how to float upon the water with a life jacket.
Credits
Consultants: Dr. Gerald Lesser, Dr. James Comer (Yale Study Center), Dr. Sheryl B. Graves (New York University), Dr. Gilbert Voyat (City University of New York)
Children's Television Workshop
Research: Arlene R. Brickner
Curriculum Consultant: Barbara R. Fowles, PH.D.
Guidance Associates
Program Coordinator: Nancy O'Rourke, Syd Holden
Visual Producer: Brenda Redmond
Audio Producer: Syd Holden
Sources