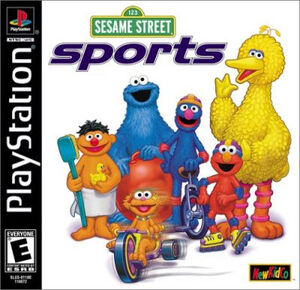 Sesame Street Sports is a 2001 Sesame Street video game developed by Realtime Associates and published by NewKidCo and Ubisoft Entertainment in Europe. It was released for Nintendo's GameBoy Color and Sony's PlayStation gaming consoles.
The player can choose one of six characters to either race in an obstacle course or exercise in the workout room. In the former, each character has a special mode of transportation; Cookie Monster bounces on a hopper ball, Grover rides a unicycle, and Ernie kayaks the rapids from his own bathtub. Big Bird serves as the primary sports anchor, and both he and co-host Elmo comment on the events.
The PlayStation version features the voices of the Muppet performers: Caroll Spinney (Big Bird), Kevin Clash (Elmo), Steve Whitmire (Ernie), Fran Brill (Zoe), Martin P. Robinson (Telly), David Rudman (Cookie), and Eric Jacobson (Grover).
Community content is available under
CC-BY-SA
unless otherwise noted.