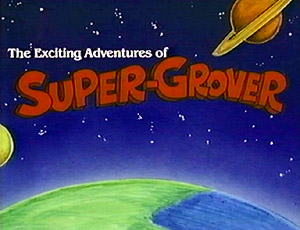 In 1985, Golden Book Video released a short series of videos adapting classic Sesame Street books. The videos apply a small amount of limited animation to the original illustrations, with character voice-overs. The only Muppeteers involved in the voice cast were Frank Oz, Caroll Spinney, and Fran Brill.
Three Sesame Street Stories
Catalogue no. 13860
ISBN: 0307138607
Stories
Notes
Some names have been changed on this video. Susan is renamed "Mrs. Washington" and voiced by Fran Brill, and Slimey is renamed "Squiggly" and is voiced by someone other than Dick Maitland.
Little Bird was added into Everyone Makes Mistakes, via recycling illustrations from Big Bird and Little Bird's Big & Little Book (like Everyone Makes Mistakes, this book was also illustrated by A. Delaney), with a running gag involving Little Bird attempting to make Big Bird tell the truth. This was most likely done to help pad out the story to an extended length to fit the running time for video length. Fran Brill also reprised the role of Little Bird for this video.
Five Sesame Street Stories
Catalogue no. 13863
ISBN: 0307138631
Stories
"The Origins of Super-Grover"
"Super-Grover and the Speeding Sled"
"Super-Grover and the Three Bears"
"Super-Grover and the Hole Story"
Notes
In the final story, due to the absence of Sonia Manzano in the voice cast, Maria is renamed "Dolores" and voiced by Fran Brill. Similarly, with Jim Henson and Jerry Nelson unavailable to provide voices, the narrator (again voiced by Fran Brill) describes what Count von Count and Ernie are saying, and the Count's bats provide the counting instead. Also, Will Lee passed away three years before the video was produced, so Big Bird spoke whatever dialogue Mr. Hooper had in the original 1978 book The Exciting Adventures of Super Grover.
Some things were ommited from The Exciting Adventures of Super Grover. These include Super Grover's demonstration of "Super Flying," a story about Super Grover vs. the "Hot Fudge Man," and an advertisement starring Betty Lou as a "98.oz Weakling" (parodying the old Charles Atlas ads), most likely for timing. A few illustrations of Grover from the "Hot Fudge Man" story did get worked into the other stories presented on the video (often presenting a cutout of the illustration against a plain-colored background.)
Emily Perl Kingsley was also involved with the video adaptation work in this release.
| | |
| --- | --- |
| | |
Eight Super Sesame Street Stories
Catalogue no. 14058
ISBN: 030714058X
Reissue of the two previous releases.
Crew
Producer: Jim Bousman
Editoral Director: Louisa Campbell
Video Adaptation: Emily Perl Kingsley
Production Design: Virginia Theimer Clapper, Susan J. Schneck, Mary McLean Strohl
Art Director: Lance Raichert
Audio Production: Studio Consultants, Inc.
Video Production: Animagination, Inc.
Community content is available under
CC-BY-SA
unless otherwise noted.