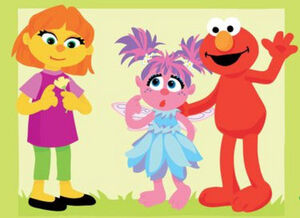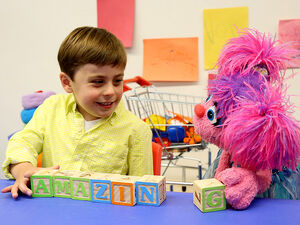 Sesame Street and Autism: See Amazing in All Children is a Sesame Workshop initiative aimed to reduce "the stigma of autism." Launched in October 2015, the initiative includes a free downloadable app that incorporates videos, digital story cards, and storybook materials.
The initiative introduced Julia, an illustrated friend of Elmo and Abby who has autism. In the initiative's digital storybook, We're Amazing, 1, 2, 3!, Julia is used to demonstrate some common characteristics people on the autism spectrum might have. The title was followed by Family Forever and Circle of Friends.
The initiative also debuted a music video for "The Amazing Song," a song written specifically for the program, and several exclusive Muppet & Kid Moments featuring Elmo, Abby, and Grover. The program also features interviews with individuals who've dealt with those with autism, including producer Frank Campagna, writer Christine Ferraro and composer Chris Jackson.
Researchers worked for three years developing the initiative.
External links