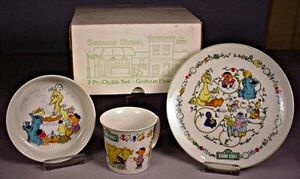 Gorham Fine China produced a set of Sesame Street dinnerware in 1976. The alphabet soup inside the bowl gives a clue as to who was responsible for the set's artwork, spelling the artist's initials: M, K and F for Michael K. Frith.
Cup: Farmer Grover milks a cow in the middle. On one side Big Bird, Little Bird, Betty Lou and Sherlock Hemlock wait for milk, each holding out a cup. On the other side, Cookie Monster, Bert, and Ernie are wait their turn. The cup is 3" tall, and has a border of fruit and vegetables.
Bowl: Big Bird, in a chef's hat, holds a big pot of steaming alphabet soup. He is offering it to Cookie Monster, Roosevelt Franklin, Bert, and Ernie. The outside of the 5" diameter bowl has a border of letters, and the Sesame Street logo.
Plate: The characters each eat their meal on this 7.5" diameter plate. Big Bird eats bird seed in a bowl, Ernie eats an apple, Cookie Monster is eating cookies from a cookie jar, Betty Lou eats a sandwich, Bert eats oatmeal, Grover eats peanut butter, and Herry Monster eats a wooden chair. Around the plate is a border of fruits and vegetables.
Silverware: This 3-piece set of stainless steel silverware includes Bert on a fork, Big Bird on a spoon, and Ernie on a knife.