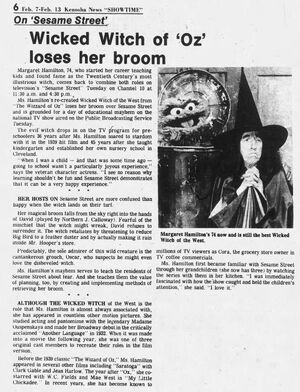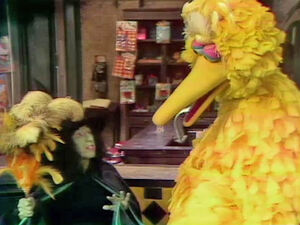 Sesame Street Episode 0847 first aired on February 10, 1976 as the 52nd entry in the show's 7th season. The episode's "street scenes" consist of a serialized story featuring The Wicked Witch of the West as played by Margaret Hamilton, reprising her role from MGM's 1939 film adaptation of The Wizard of Oz.
Immediately following the show's broadcast debut, Children's Television Workshop and local PBS broadcasters began receiving letters written by the parents of children who were frightened by the witch and her interactions primarily with Big Bird and David. Many letters spoke of children leaving the room, crying, and subsequently suffering from nightmares coupled with refusal to sleep at night. A few letters were sent in after the episode had aired in re-runs.
One recurring comment referenced Hamilton's appearance on Mister Rogers' Neighborhood from May 14, 1975 in which the actor spoke with Fred Rogers on camera in detail about the work that went into the make-believe of the character using costuming and make-up. Despite the explanatory nature of that episode, viewers felt the depictions were representative of taboo subjects, some comparing it to a third PBS series too frightening for children: The Electric Company.
Other viewers wrote in less out of concern for young viewers, but in regards to their own fears concerning what they claimed was a threat to society from real witches. Lumping the witch's appearance into other references to "the occult" (such as crystal balls and Muppet character Count von Count), more than one letter compared these practices to Satan-worship and referenced several passages from The Bible.
In contrast, at least one woman wrote in objecting to the negative stereotypes of witches portrayed in the episode, and offered her services to help develop a Wiccan character on the show with redeeming qualities. Another viewer suggested bringing the Wicked Witch back to give the show's cast of characters the opportunity to "win her over."
The response to viewer mail led to a case study and subsequent memo issued internally within CTW.
Letters
Letter
Excerpt

Seattle, WA

February 10, 1976

San Diego, CA

February 10, 1976

Venice, CA

February 10, 1976

Canyon Park, CA

February 11, 1976

Dallas, TX

February 12, 1976

Renton, WA

February 13, 1976

Farmingdale, NY

February 14, 1976

Eldbridge, NY

February 15, 1976

Pittsburgh, PA

February 19, 1976

New York, NY

February 22, 1976

North Hollywood, CA

February 23, 1976

Groton, MA

February 24, 19746

Agawam, MA

March 9, 1976

Lemon Grove, CA

March 13, 1976

Belfast, ME

March 26, 1976

Plymouth, MI

no date

Durham, NC

no date

New York Channel 13

no date

Unknown (1)

no date
Memorandum
On April 4, 1976 — less than eight weeks after the show aired — CTW researcher Ana Herrera issued a memo to the writers and producers of Sesame Street consisting of a case study in which twenty-six children were observed viewing the episode, and their reactions.
The tests showed that children were "exceptionally attentive during the Margaret Hamilton segments," and those who watched the episode in color were fascinated by her green face. The issue of fear was difficult to fully judge, due to confusing answers and the fact that the children were surrounded by their peers and adults, and not alone watching.
The memo's recommendation reads:
The following addendum includes a collection of comments made by children while watching the episode, and their answers to a series of questions following its conclusion.
Notes