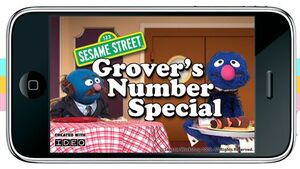 Sesame Workshop has partnered with IDEO ToyLab to release Sesame Street apps with original content for the iPhone, iPod Touch and iPad.
While some of The Muppets Studio's apps are offered internationally, the apps released by Sesame Workshop are only available in select, mostly English-speaking, countries.
Beginning in May 2010, "Elmo's Monster Maker" appeared in a TV commercial for the iPhone.
Picture
Name / Release Date
Description

Grover's Number Special

---

November 13, 2009
Waiter Grover prepares food for Mr. Johnson at Charlie's Restaurant. The player must help Grover prepare the food by tilting it from side to side and catching it on a platter.

Elmo's Monster Maker

---

January 28, 2010
Elmo shows the player how to mix and match various facial features to make their own Monster, who can then dance, play with Elmo, or have its picture taken and saved to the iPhone or iPod.

Rosita's Jump Count

---

April 2, 2010
Rosita plays jump rope with the player and shows how to jump the jumps in English and Spanish.

Bert's Bag

---

April 30, 2010
Bert has the player guess the secret contents of his bag.

Count TV

---

April 30, 2010
The Count showcases interactive versions of classic Sesame clips about the numbers 1 through 9 (though all segments are edited). Games Include:

Elmo Loves ABCs

---

April 4, 2011
Elmo lets the player make choices and learn about the alphabet at their own pace with over eighty classic Sesame Street clips.

iYip

---

2011
A Martian soundboard app. Matt Vogel and Martin P. Robinson voice the characters. A behind-the-scene clip was feature on YouTube. (YouTube)

Elmo Calls

---

2011
Pick up the phone, Elmo's calling! Receive video calls, audio calls, and voicemail from Sesame Street's own furry, red monster. Or, give him a call yourself! With Elmo Calls you can laugh, play, and sing with Elmo!

Elmo's World and You

---

September 10, 2015
This app of the popular Sesame Street mini-series Elmo's World includes two reformatted episodes, "Pets" and "Beach", which reuses footage from the original segments with added interactive segments featuring Elmo and a new crayon-drawn friend "Tablet."

Cookie Monster Stickers

---

September 12, 2016
Released in conjunction with the debut of iOS 10, the Sesame Street app features stickers of Cookie Monster in various reaction faces for use in instant messaging. An update with holiday content and 5 "retro" style Cookie Monster stickers was released on March 18, 2017.  

Elmo Stickers

---

January 27, 2017
The Sesame Street app features stickers of Elmo for use in text messaging. It includes 22 animated stickers and 9 stationary stickers in an art style associated with the new Elmo's World segments, and includes the character of one of the Elmo's World poodles, Schmoodle. 

Oscar the Grouch Stickers

---

December 7, 2017
iMessage stickers of Oscar the Grouch include various facial expressions, Slimey as a wizard, and various word bubbles like "Scram" and "Yucky".
See also
External links