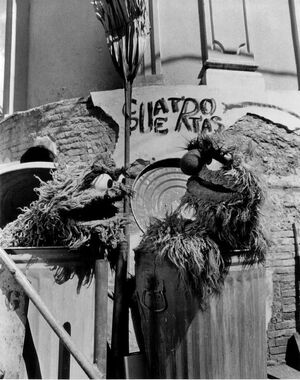 Sesame Street in Puerto Rico is a prime-time Sesame Street special that was broadcast by PBS on November 25, 1979. The half-hour special was reworked from the premiere episode of season 11 and features Maria traveling to Puerto Rico for a visit with her relatives.
The abbreviated prime-time broadcast was followed in the week by the full Episode 1316 which was the first part in a multi-episode arc consisting of five additional episodes.
Producer Michael Cozell told the press that the city of San German was chosen after scouting multiple locations because "it offered a contrast of the old and the new" and for its proximity to the hills and the ocean. Production had expected to hire several local actors, but ended up casting mostly locals and only two actors: Marta Sanjuro as Aunt Marta and Rafael Lugo as Uncle Rafael. Cozell also acknowledged the hospitality of the Vilanovas family (Ronaldo and Annie played two of Maria's cousins) who helped the production team integrate into the town.[1]
The program was directed by Ozzie Alfonso, and received several Emmy Award nominations.
Sources
↑ Green Bay Press Gazette "Sesame Street Puerto Rican Visit Pays Off" by Tom Jory, Nov 24, 1979