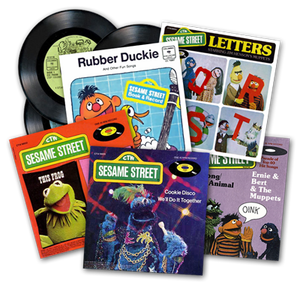 As Sesame Street began to make record albums that featured songs from the show, they also released 45 RPM singles from those albums. The first series of albums on Columbia Records and Warner Bros. Records led to a similar series of 45 RPM singles, which were packaged as book and record sets, with pictures and drawings either taken from or similar to the albums, and lyrics to the songs. Some of these titles were also packaged into boxed sets with cover artwork similar to the album covers.
Some of the songs, such as "Rubber Duckie" and "Sing," proved to be so popular with adults that they were also released as adult pop singles. These records were produced between 1970 and 1973. The "Rubber Duckie" single even reached number 16 on Billboard's Hot 100 Singles chart in 1970.[1]
In 1974, a new series of singles began to be released on the recently formed Sesame Street Records label, which had also begun issuing albums. At first, they were manufactured and distributed by Children's Records of America, and then in 1977 Distinguished Productions took over production, as well as reissuing the earlier CRA singles under their own name. Nearly all of the early songs were re-released in the new series, although they only had simple picture sleeves with no lyrics.
The last commercially released 45 RPM singles in the US were produced in 1979, although several promotional releases were produced until 1984, when the label was finally shut down. There was also a promotional EP released to radio stations in 1985, to promote the release of Follow That Bird.
Several 12" singles were also released over the years, most of them to promote artists who had recorded Sesame songs. However, during the height of disco, 12" singles of songs from Sesame Street Fever were released for DJ's to play in clubs. These contained extended versions and remixes not found on the album.
Cover
Date
Title
Catalogue number

Columbia Records CC series singles (Book and Record Sets) (1970-1973)

1970

Original Cast

previously unreleased

CC 75001

1970

Letters

CC 75002

1970

Numbers

CC 75003

1970

Shapes & Up And Down

CC 75004

1970

People & Play

includes two extra verses (garbageman and grocer) never released elsewhere

CC 75005

1970

Ride & Trash

CC 75006

1970

Rubber Duckie And Other Fun Songs

CC 75007

1970

Sing About Feelings

Bob's spoken introduction is different from his introduction on the album version

CC 75008

1970

All About Animals

CC 75009

1971
CC 75010

1971
CC 75011

1971
CC 75012

1971

Muppet ABCD

CC 75037

1971

Muppet EFGH

CC 75038

1971

Muppet IJKL

CC 75039

1971

Muppet MNOP

CC 75040

1971

Muppet QRST

CC 75041

1971

Muppet UVW

CC 75042

1971

Muppet XYZ

CC 75043

1972
CC 75048

1972
CC 75049

1972
CC 75050

1972
CC 75051

1972
CC 75052

1972
CC 75053

1972
CC 75054

1973

sold only as part of the "Carry About" edition
Note: Labels incorrectly state that Side A only contains Lots of Stuff, and that Side B contains both Marching Song and Clink, Clank.

ECC 75055

1973

sold only as part of the "Carry About" edition

ECC 75056

1973

sold only as part of the "Carry About" edition

ECC 75057

1973

sold only as part of the "Carry About" edition

ECC 75058

1973

sold only as part of the "Carry About" edition

ECC 75059

Columbia Records pop series singles (1970-1973)

1970
4-45207

1970
4-45247

1971
4-45322

1971
4-45378

1972
4-45718

1973

from Sesame Street LIVE!

4-45943

1973

"Columbia Hall of Fame" reissue edition

4-33204

1975

"Columbia Hall of Fame" reissue edition with different prefix

13-33204

Scepter Records singles (1970)

1970
SCE-12291

1970
SCE-12297

Affinity Records singles (1970)

1970

Side A: Groovin' on the Sunshine
Side B: Best Friend

A45-201

Warner Bros. Records singles (1971–1980)

1971
WB 7539

1972

from The Electric Company

WB 7666

1980
WBS 49642

1980

Side A: One Good Turn
Side B: The Sailor and the Mermaid

WBS 49703

1982

from the Doobie Brothers album Best of the Doobies Volume II

WBS 50001

Sesame Street Records singles (1974-1984)

1974

Numbers

CRA 76003

1974

Shapes & Up And Down

CRA 76004

1974

Rubber Duckie And Other Fun Songs

CRA 76007

1974

Sing About Feelings

Bob's spoken introduction on A Face is different from his introduction on the album version

CRA 76008

1974

All About Animals

CRA 76009

1974
CC 76048
CRA 76048

1974
CC 76049
CRA 76049

1974
CC 76050
CRA 76050




1974
CC 76051
CRA 76051




1974

from Havin' Fun with Ernie & Bert</small

CC 76052
CRA 76052

1974
CC 76053
CRA 76053

1974
CC 76054
CRA 76054

1976

sold only as part of the Ernie & Bert from Sesame Street 45 set

CT 255501

1976

sold only as part of the Ernie & Bert from Sesame Street 45 set

CT 255502

1976

sold only as part of the Ernie & Bert from Sesame Street 45 set

CT 255503

1976

sold only as part of the Ernie & Bert from Sesame Street 45 set

CT 255504

1976

sold only as part of the Ernie & Bert from Sesame Street 45 set

CT 255505

1976

sold only as part of the Ernie & Bert from Sesame Street 45 set

CT 255506

1976

sold only as part of the Ernie & Bert from Sesame Street 45 set

CT 255507

1976

from Sesame Street LIVE!
sold only as part of the Monster Hits from Sesame Street 45 set

CT 255521

1976

sold only as part of the Monster Hits from Sesame Street 45 set

CT 255522

1976

sold only as part of the Monster Hits from Sesame Street 45 set

CT 255523

1976

from C is for Cookie

sold only as part of the Monster Hits from Sesame Street 45 set

CT 255524

1976

Side B: Me (Yo) (label incorrectly says "Me/You")

from ¡Sesame Mucho!
sold only as part of the Monster Hits from Sesame Street 45 set

CT 255525

1976

sold only as part of the Monster Hits from Sesame Street 45 set

CT 255526

1976

sold only as part of the Monster Hits from Sesame Street 45 set

CT 255527

1976

from Sesame Street LIVE!
sold only as part of the 45 set edition

CT 255531

1976

from Sesame Street LIVE!
sold only as part of the 45 set edition

CT 255532

1976

from Sesame Street LIVE!
sold only as part of the 45 set edition

CT 255533

1976

from Sesame Street LIVE!
sold only as part of the 45 set edition

CT 255534

1976

from Sesame Street LIVE!
sold only as part of the 45 set edition

CT 255535

1976

from Sesame Street LIVE!
sold only as part of the 45 set edition

CT 255536

1976

from Sesame Street LIVE!
sold only as part of the 45 set edition

CT 255537

1976

from Sesame Street LIVE!

CTW 99001

1976

from Sesame Street LIVE!

from Bert & Ernie Sing-Along (introduction edited)

CTW 99002

1976

Big Bird Sings

from The Count Counts

CTW 99003

1976

Starring Count von Count

from The Count Counts

CTW 99004

1976
CTW 99005

1976

Bert & Ernie

CTW 99006

1976

Grover Sings

from Sesame Street LIVE!

CTW 99007

1976

Starring Cookie Monster

from C is for Cookie

CTW 99008

1976

Starring Big Bird

CTW 99009




1976

Starring Oscar the Grouch

CTW 99010

1976

Ernie Sings

from ¡Sesame Mucho!

CTW 99011

1976
CTW 99012

1976

Bert Sings

from Bert's Blockbusters

CTW 99013

1976

previously unreleased

from Sesame Street LIVE!

CTW 99014

1976

Pete Seeger & Brother Kirk Featuring Big Bird

CTW 99015

1976

Maria & Grover with Cookie Monster

from ¡Sesame Mucho!

CTW 99016

1976

Ernie Sings

CTW 99017

1976

Starring Cookie Monster

CTW 99018

1976

from Sesame Street LIVE!

from The Count Counts

CTW 99019

1976

Susan and Bob Sing

CTW 99020

1976

Ernie & Bert & The Muppets

CTW 99021

1976
CTW 99022

1977

(Reissue cover)

CTW 99022

1976

from Sesame Street LIVE!

CTW 99023

1977

from Sesame Street LIVE!

(Reissue cover)

CTW 99023

1976

Starring Ernie & Bert

CTW 99024

1976

from ¡Sesame Mucho!

CTW 99025

1976

Starring Ernie & Bert

CTW 99026

1976

Featuring Chris and the Alphabeats

previously unreleased

CTW 99027

1976
CTW 99028

1976

Featuring Little Jerry and the Monotones

previously unreleased

CTW 99029

1976
CTW 99030

1976

Starring Herry Monster

CTW 99031

1976

Oscar the Grouch Sings

from Sleepytime Bird

CTW 99032

1976

Featuring Ernie & the Gang

CTW 99033

1976
CTW 99034

1976

Kermit the Frog & Grover

CTW 99035

1976

The Muppets Sing the Beatles

both songs previously unreleased

CTW 99036

1976

Muppet ABCD

CTW 99037

1976

Muppet EFGH

CTW 99038

1976

Muppet IJKL

CTW 99039

1976

Muppet MNOP

CTW 99040

1976

Muppet QRST

CTW 99041

1976

Muppet UVW

CTW 99042

1976

Muppet XYZ

CTW 99043

1977
CTW 99044

1977

from Signs!

CTW 99045

1977

from Bert's Blockbusters

CTW 99046

1977

from Sleepytime Bird

CTW 99047

1977
CTW 99048

1977

from Signs!

CTW 99049

1977

both songs previously unreleased

CTW 99050

1977

alternate version

from Sesame Street LIVE!

CTW 99051

1977
CTW 99052

1977

previously unreleased

alternate version

CTW 99053

1977
CTW 99054

1977
CTW 99055

1977
CTW 99056

1977

from Bob Sings!

CTW 99057

1977
CTW 99058

1977
CTW 99059

1977
CTW 99060

1977

from Signs!

previously unreleased; later issued on Born to Add

CTW 99061

1977

from Numbers!

CTW 99062

1977

from Numbers!

CTW 99063

1977
CTW 99064

1977

from Numbers!

CTW 99065

1977
CTW 99066

1978

from Numbers!

CTW 99067

1978

Starring David

CTW 99068

1978
CTW 99069




1978

from Sesame Street Fever

CTW 99070
CTW 199070

1978

from Sesame Street Fever

CTW 99071
CTW 199071



1978

from Sesame Street Fever

CTW 99072
CTW 199072

1979

Helen Reddy Sings

CTW 99073
CTW 199073

1979

from Sesame Disco!

CTW 99074

1979

from Sesame Disco!

CTW 99075

1979

from Sesame Disco!

CTW 99076

1979

promotional release
from Sesame Disco!

SD-1

1981

promotional release
from Sesame Country

SC-1

1984

promotional release

DJ 22112

"My First Sesame Street Record Collection" singles (1976,1978)




1976
1978

sold only as part of the My First Sesame Street Record Collection 45 set
yellow label set issued in 1976
various-colored label set issued in 1978

Sesame Street Records JCP 69901




1976
1978

sold only as part of the My First Sesame Street Record Collection 45 set
yellow label set issued in 1976
various-colored label set issued in 1978

Sesame Street Records JCP 69902




1976
1978

sold only as part of the My First Sesame Street Record Collection 45 set
yellow label set issued in 1976
various-colored label set issued in 1978

Sesame Street Records JCP 69903




1976
1978

sold only as part of the My First Sesame Street Record Collection 45 set
yellow label set issued in 1976
various-colored label set issued in 1978

Sesame Street Records JCP 69904

1976
1978

from Sesame Street LIVE!

sold only as part of the My First Sesame Street Record Collection 45 set
yellow label set issued in 1976
various-colored label set issued in 1978

Sesame Street Records JCP 69905




1976
1978

sold only as part of the My First Sesame Street Record Collection 45 set
yellow label set issued in 1976
various-colored label set issued in 1978

Sesame Street Records JCP 69906

1976
1978

from Numbers!
sold only as part of the My First Sesame Street Record Collection 45 set
yellow label set issued in 1976
various-colored label set issued in 1978

Sesame Street Records JCP 69907

Other known Sesame Street Records 45 RPM Singles (197?)

1978

from Sesame Street Fever
sold only as part of the Sesame Street Fever Boxed Set

SFT 79006

1978

from Sesame Street Fever
sold only as part of the Sesame Street Fever Boxed Set

SFT79007

1979

from Numbers!
sold only as part of an untitled 45 set about numbers

JCP 7001

1979

from Numbers!
sold only as part of an untitled 45 set about numbers

JCP 7001




1979

from Numbers!

from The Count Counts
sold only as part of an untitled 45 set about numbers

JCP 7002

1979

from Numbers!

from The Count Counts
sold only as part of an untitled 45 set about numbers

JCP 7003

1979

from Numbers!

sold only as part of an untitled 45 set about numbers

JCP 7004

1979

from Numbers!
sold only as part of an untitled 45 set about numbers

JCP 7005

1979

from Numbers!
sold only as part of an untitled 45 set about numbers

JCP 7006

1979

from Numbers!

from The Count Counts
sold only as part of an untitled 45 set about numbers

JCP 7007

197?

Muppet ABCD

sold only as part of The Muppet Alphabet Album 45 set

JCP 7101

197?

Muppet EFGH

sold only as part of The Muppet Alphabet Album 45 set

JCP 7102

197?

Muppet IJKL

sold only as part of The Muppet Alphabet Album 45 set

JCP 7103

197?

Muppet MNOP

sold only as part of The Muppet Alphabet Album 45 set

JCP 7104

197?

Muppet QRST

sold only as part of The Muppet Alphabet Album 45 set

JCP 7105

197?

Muppet UVW

sold only as part of The Muppet Alphabet Album 45 set

JCP 7106

197?

Muppet XYZ

sold only as part of The Muppet Alphabet Album 45 set

JCP 7107

1980

from Signs!

JCP 72002

RCA Records singles (1985)

1985

Follow That Bird (EP)

from Follow That Bird
promotional release
Note: This EP only contains short samples of the above 4 songs

BB-0785

1985

Side A: The Devil's on the Loose

from the Waylon Jennings album Turn the Page

from Follow That Bird
promotional release

JB-14215

12" singles

1978

Side A: C is for Cookie (Funky version) Special Disco Mix by Larry Levan
Side B: C is for Cookie (Sweet version) Special Disco Mix by Roy Thode

promotional 12" disco single with remixed versions of C is For Cookie from Sesame Street Fever

CTW-747

1980

Side A: Alonzo
Side B: Love Is Real
Side B: (If I Could Only) Change Your Mind

above 3 songs from the Al Jarreau album This Time

Warner Bros. Promo PRO-A-933

2003

Side A: C is for Cookie: Funky version Special Disco Mix by Larry Levan (6:13)
Side A: C is for Cookie: Sweet version Special Disco Mix by Roy Thode (7:38)
Side B: Pinball Number Count (DJ Food Re-Edit -- Special Extension by Strictly Kev) (2:41)

reissue of CTW-747 with one additional track

Ninja Tune

ZEN 12143

Digital singles

2019
 

2019
 

2021
 

2022
 
See also
Sources