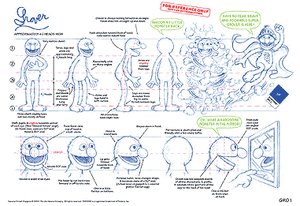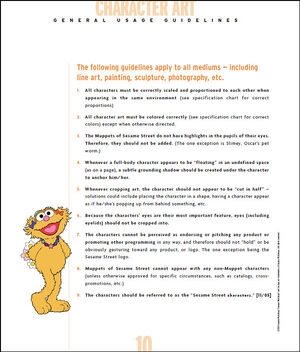 Style guides and character model sheets for Sesame Street distributed in 2001.
Sesame Workshop produced the Sesame Street Muppets Drawing Guide, Illustrated by Nancy W. Stevenson. The 2001 Drawing Guide contains mostly pencil drawings, which show much greater detail than the previous Character Books and include guidance for depicting Sesame Street Muppets in various positions and from multiple angles.
The Guide consists of a cover page, table of contents, 4 introductory pages, and 12 character pages featuring extensive pencil drawings. The character pages cover 10 Muppets:
Bert
Big Bird
Cookie Monster (2 pages)
Count Von Count
Elmo
Ernie (including one drawing of Rubber Duckie)
Grover & Super Grover
Oscar the Grouch (2 pages, which include several drawings of Slimey)
Rosita
Zoe
Excerpts from the Drawing Guide appear in the liner notes for the 40 Years of Sunny Days DVD set.
Also in 2001, Sesame Workshop produced a separate Sesame Street Style Guide that provides information such as guidelines for representing the Sesame Street Muppets and preferred fonts for use in advertising typography.