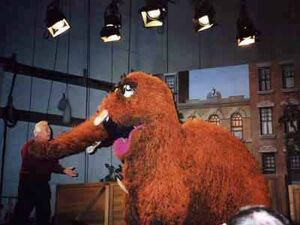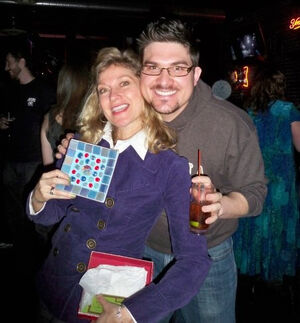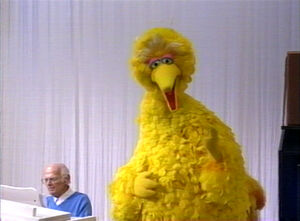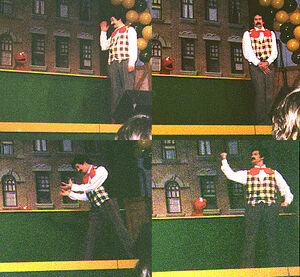 When the Sesame Street cast and crew finish taping a season of shows, they traditionally celebrate with a wrap party. Party goers have dinner, watch a reel of outtakes and highlights from the season, and enjoy live skits that often poke fun at the show. In addition, toasts are exchanged, and awards and bottles of wine are presented to people who got engaged, married or had babies since the last party.
The parties also give out a "Richard Hunt Spirit Award," given to cast or crew members who "someone that everyone feels continues the humor and spirit of Richard on set."[1]
In a 2009 blog entry, Annie Evans wrote about the tradition:
"

We used to do the wrap parties on the actual set. Because the crew had to work these parties rather than enjoy them, and we moved to a smaller studio, the wrap parties started happening "off campus" a few years ago. These earlier studio wrap parties used to be quite lavish affairs. People such as John Tartaglia and Alan Muraoka would perform as well as other talented crewmembers [sic]. Often these were spoofs such as Alan and Telly singing "Everybody Poots." And then, there was the infamous Muppet performance. This show, usually written by Joey Mazzarino, was always a parody and very blue. Parents were warned ahead of time it was NOT suitable for children (but children came anyway). One year, it was Elmo the snobby star in Hollywood because of the "Tickle Me Elmo" craze. Another time, it was a Letterman-style show called "Late Night with Oscar the Grouch" and once it was a marketing spoof about all the Sesame Street products.[2]

"
Known performances and events
Since the wrap parties a private affair, not much is made public about them. However, some tidbits from the parties have been revealed on occasion.
The season 30 wrap party featured a parody of "Elmo's World," focused on undergarments as Elmo interviewed a Muppet bra and G-string.[5] The sketch also featured Mr. Noodle (as portrayed by Muppet performer Rick Lyon) shouting angrily that he won't be Elmo's patsy anymore and swearing to "get a new job where he can act with dignity," only to be disgraced when he can't shake the cartoony sound effects that accompany his every move.[6]
A wrap party sketch from an unknown season in which Mr. Snuffleupagus ate an autograph-seeking child (camera man Frank Biondo's nephew); at the next season's party, Snuffy regurgitated the same child, "now wearing a tattered shirt and covered in goo."[2]
Another wrap party sketch featured the parody character "Nookie Monster."[7]
In a 2009 interview, Michael Davis, author of Street Gang, mentioned wrap party sketches that spoofed the notion that Ernie and Bert are gay: when asked if there had ever been any discussion about the characters' "unusual relationship," Davis responded "Well, I'll tell you this, not only was there a discussion, but it was fodder for some of the funniest skits ever at their wrap parties every year."[8]
Another "Elmo's World"-themed sketch showed Elmo going through puberty, where "his falsetto was dipping into bass and he was growing little Muppet pubic hairs."[5]
Sources