Premiere
April 5, 2008
Finale
January 28, 2011
Network
BBC Two Northern Ireland
Seasons
2
Episodes
40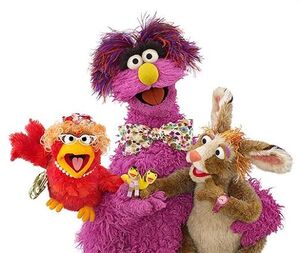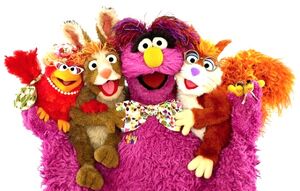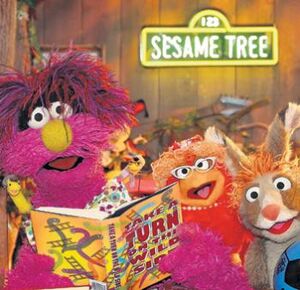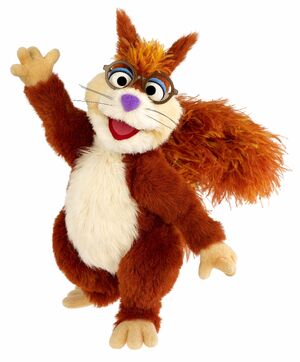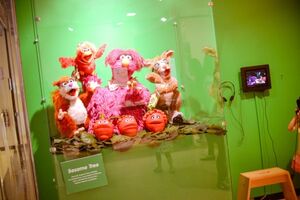 Sesame Tree is the Sesame Street television co-production for Northern Ireland. Belfast-based production company Sixteen South produced the series in association with Sesame Workshop. The show stars Potto, a furry, inventive monster-type who lives in a tree with his friend Hilda, the Irish hare. The first series consisted of twenty fifteen-minute episodes, and debuted over BBC Two Northern Ireland on April 5, 2008.
The second series of twenty episodes began airing on November 22, 2010, and introduced a new character -- Archie, a maths-loving squirrel. Oscar the Grouch made a special appearance in one episode.
History
The project has been under consideration since 2004; in Sesame Workshop's presentations on their international projects, Northern Ireland was listed as a goal, with the intent of "building Sesame model for respect and understanding curriculum across sectarian divides."[1]
The project remained merely a goal for lack of funding. However, in early 2006, it was announced that the American Ireland Fund announced their donation of one million dollars to realize the project.[2] Additional sponsors include the Northern Ireland Fund for Reconciliation[3]
Sesame Workshop president Gary Knell spoke optimistically about the project:
"Given the positive and wide-ranging developments that have taken place over the recent years, it's a tremendously exciting time to be working in Northern Ireland. It's crucial to develop children's self-esteem, love of learning, openness and natural curiosity about others to better prepare them for a brighter future. We are proud and privileged, with our production partners from Northern Ireland, to have the opportunity to contribute to these objectives.[3]"
Though initially untitled, as the project developed, a decision was made to use a large hollow tree instead of a street as the setting, and Sesame Tree was finalized as the title in September 2007.[4]
Sesame Tree was selected for a CINE Golden Eagle Award in 2008.[5]
For Sesame Street's 45th celebration in 2014, an exhibition was organized in which most characters of the show where displayed in the New York Public Library.
Characters and Content
The program features several new Muppet characters, developed by the Sixteen South production crew, designed by Ed Christie and built by the Jim Henson Company in New York, and performed by local puppeteers. Martin P. Robinson assisted in auditioning and training local performers.[6]
The series focuses on Potto, a furry, inventive monster-type who lives in a tree with his friend Hilda, the Irish hare. The supporting characters include the eccentric bird Claribelle; the Bookworms who live among Potto's books; and the three Weatherberries, a group of Muppet fruit who hang from a vine inside the tree.[7] For the second season, the cast was joined by Archie, a curious three and a half year old squirrel who loves to learn.
The episodes also include clips from the American Sesame Street and live action film inserts from in and around Northern Ireland. In some segments, Potto contacts his friends on Sesame Street through his own computer device.[7]
Executive producer Colin Williams of Sixteen South expressed the hope that "Through the fun interaction of the muppets in studio, Sesame Street archive clips and live action films, local children will enjoy learning about themselves and others."[4]
Several of the resources that are used by the character Hilda are created or used heavily by housemate Potto including the Pottoscope, the Patent-Pending Pottophone and said housemate's collection of books.
Puppeteers
Episodes
Series 1
Series 2
See also
Sources
External links
Community content is available under
CC-BY-SA
unless otherwise noted.