Sesameworkshop.org is the official website of Sesame Workshop. The site initially launched in 1997 as CTW.org, and included educational materials, for both parents and children. The original Children's Television Workshop site included downloadable games plus number and alphabet coloring pages for the children. Parents could consult references covering "everything from how to comb their baby's hair to how to play with their 4-year-old."[2]
In 2000, the site changed from CTW.org to sesameworkshop.org to reflect the new name of the organization.
In 2006, a Sesame Street press kit said that the website received over 1 million visitors daily.[3]
Beginning in the last quarter of 2006, the website featured its own store where products can be purchased directly from the organization.[4]
In 2008, the workshop launched sesamestreet.org as a home for show information and more of its child- and parent-oriented content. The Sesame Workshop site now focuses on highlighting Sesame's corporate information, history, and humanitarian work.
Previous versions
Past features
Sesame Street Video Player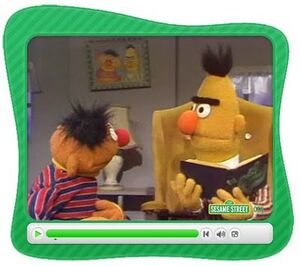 In 2007, sesameworkshop.org launched the Sesame Street Video Player, a beta test for what would become the foundation of the new sesamestreet.org in 2008. The player featured hundreds of sketches from Sesame Street.
Online Stories
Beginning in 2005, Sesameworkshop.org hosted interactive storybooks. These stories were removed from the site in 2007; however many were later integrated into the new Sesamestreet.org.
Elmo Goes to the Doctor

When Elmo doesn't feel well his mom takes him to the doctor. There are a lot of things Elmo would rather be doing instead of going to the doctor (like playing with worms, taming lions at the circus, surfing in Hawaii, or riding a train). However, he soon learns that the doctor can make him feel better and it is important to visit the doctor when you're sick.

Featured in the story are Elmo, Elmo's Mom, Doctor Naomi Monsterfuzzle, and Nurse Lisa. Elmos also runs into some friends in the waiting room, including are Super Grover, Betty Lou, a horse, Ernie, Baby Bear, a chicken, and Cookie Monster. Dorothy can also be seen in Elmo's room.

Doctor T. Purplefur is also a MD at the offices.

A Spotty Day on Sesame Street

Zoe get monster spots and can't go outside to play. Elmo, Telly and Rosita come to cheer her up, but Zoe is still sad. So Elmo, Telly and Rosita paint spots all over Sesame Street.

Elmo's Special Cupcakes

Elmo is sad that his mom has to go to work. The two make special cupcakes. The next day Dana comes to babysit Elmo, while his mommy works. At first Elmo misses his mommy. Dana and Elmo play games read a story and eat Elmo's special cupcakes as a snack. Elmo's mom returns and Elmo tells her all about his day.

The Lemonade Stand

Elmo and Zoe start a lemonade stand. They start out in the kitchen, making any pitcher they want. After that, they go outside to sell the lemonade and three customers come to buy it for 5 cents (an elderly purple female Anything Muppet voiced by Fran Brill, a young orange female Anything Muppet, also voiced by Fran Brill, and another elderly purple Anything Muppet, a male one, voiced by Kevin Clash). Only pennies on easy mode and pennies or a nickel on hard mode. A fruit salesman (a blue Anything Muppet, also voiced by Kevin Clash) comes to sell more lemons when they run out.

Elmo's First Day of School

Elmo (with the help of his mommy) gets ready for his first day of school. Elmo is scared at first. He meets his teacher Mrs. Rosen, and makes friends with Maya.

Elmo Minds the Farm

Elmo takes care of MacDonald's farm while Old MacDonald is away. However all the animals are making the wrong noises. The horses or croaking, the frogs are barking and the dogs are going "moo".

Telly Monster Starring in "High Noon"

Telly is scared when he learns that his cousin Bully is coming to visit, because he's never met him before. Oscar convinces Telly that Bully must be big and mean (due to his name) and works Telly up into a panic. Bully arrives and is nothing like Telly's visions. Bert, Ernie, the Honkers and Cookie Monster also appear.

Forgetful Jones in "Thanks for the Memories"

Forgetful Jones gathers Elmo, Prairie Dawn and Buster around the fire to tell they story of his (and Buster's) amazing day. However he's forgotten how it goes.

Zoo Who? With Betty Lou

Betty Lou helps Dr. Nobel Price identify strange animals.

The Yucky Letter M

Prairie Dawn teaches about the letter M, much to Oscar's disapproval.

Elmo starring in "Buckle Up, Teddy"

Elmo teaches his stuffed monster Teddy how to safely ride in a car. A red Elmo-like version of Elmo's Mom also appears.

Elmo in "Wear Your Helmet, Teddy"

Elmo teaches his stuffed monster Teddy about bike safety. A red Elmo-like version of Elmo's Mom also appears.

Grover in "Goodnight Grover"

Grover has a hard time falling asleep. Grover's Mommy, Super Grover and Bruno the Trashman also appear.

They story was illustrated by David Michael Friend.

Rosita in "Cuento Time"

Rosita reads a Spanish story about a dog.

Bert and Ernie in "Lights Out"

Bert and Ernie explore the basement in search of Bert's hat. They keep thinking they see animals, only to find out the shadows and lights are playing tricks with their imaginations.

They story was illustrated by David Michael Friend.

Snuffy and Elmo in "If Things Were Different"

Snuffy and Elmo go to the park, but their difference in size becomes a problem. They see what it would be like if Snuffy was smaller, and what life would be like if Elmo was bigger. Ernie, Bert, Big Bird, and Cookie Monster appear as the resized characters explore Sesame Street, 456 Snuffle Circle and the park.

Grover Goes Over and Under and Through

Grover shows directions as he goes over, under, through, backwards, forwards, near and far.

Pictures of classic Sesame characters can be seen on the walls of Grover's 3-D world including pictures of Little Bird, Two-Headed Monster, Lefty the Salesman, Roosevelt Franklin, Sam the Robot, Bert and Ernie. The title card of "Rosita in Cuento Time" is also hanging on the wall.

A Silly Sandwich for Bert

Ernie makes Bert a (silly) sandwich.

They story was illustrated by David Michael Friend.

Off to School with Elmo

Elmo travels and daydreams his way through the neighborhood on his way to school. Elmo's Mom, Bert, Elmo's teacher and Elmo's classmates (Ernie, Cookie Monster and Prairie Dawn) also appear.

Show and Telly

It's Show and Tell day at preschool, and Telly forgot something to show. Elmo, Big Bird, Oscar and the rest of the class help Telly come up with something to show (and tell).

Girls Can Do Anything!

Zoe and Prairie Dawn decide to do whatever they want.

They story was illustrated by David Michael Friend.

Granny Bird's Holiday Feast

Granny Bird makes a feast for Big Bird and his friends (Cookie Monster, Elmo, Oscar and Zoe).

Cold in my S'nose

It is a beautiful snowy day and Bert wants to play outside with his friends (Ernie, Count von Count, Big Bird, Oscar the Grouch). However Bert is sick with a cold and can't go outside, so Ernie asks his friends for help to make Bert feel better.

Cookies Can't Laugh

Prairie Dawn shows Cookie Monster that there are roles that friends play that a cookie just can't fill. Big Bird, Snuffy, Baby Bear and Telly also appear.

They story was illustrated by David Michael Friend.

Super Grover in "The Nick of Rhyme"

Super Grover helps a child find various things they've lost by asking the player to pick out things that rhyme.
Sources
External links