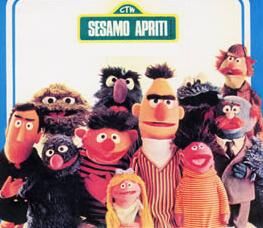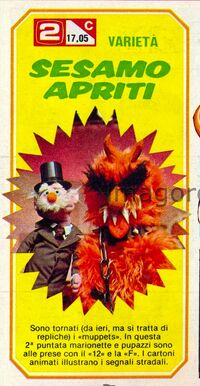 Sesamo Apriti (Open Sesame) was the Italian dub of Sesame Street, first broadcast in 1971. Approximately 50 episodes of the American show were cut to a half hour, and translated into Italian. A Sesamo Apriti board game and record album were released in 1978.
The word Muppet, in the original dubbing, was translated by the term "babau" - which is the name of a legendary monster of fairy tales.[1]
The Sesame English and Il Mondo di Elmo (Elmo's World) spinoffs were broadcast in Italy beginning in 2004. 11 episodes of Giocate Con Noi (Play with Me Sesame) were broadcast in 2005. Global Grover began airing on RaiSat YoYo in October 2007 and RaiTre in 2008.
Voices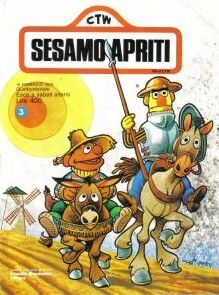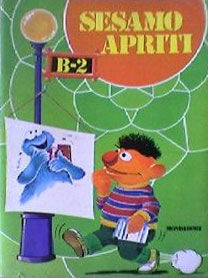 Sesamo Apriti
Sesame English
Il Mondo di Elmo (Elmo's World)
Elmo: Davide Garbolino (Il Mondo di Elmo and Giocate Con Noi)
Other Muppets: Alberto Höiss
Giocate Con Noi (Play With Me Sesame)
Global Grover
Merchandise
References
External links
Sources
Community content is available under
CC-BY-SA
unless otherwise noted.