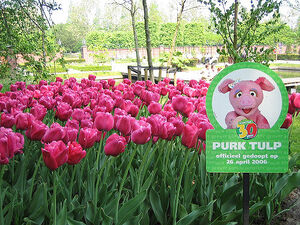 Keukenhof in Lisse (The Netherlands), famous for its flower gardens and creating new sorts of tulips each year, gave names to several new tulips dedicated to Sesamstraat, the Dutch co-production of Sesame Street.
On noon of April 26, 2006, they baptized a new tulip dedicated to the character Purk. Sien, Purk, Bert and Ernie were welcomed to participate on the official baptizing of the new "Purk" tulip at the Keukenhof. Keukenhof director Piet de Vries and tulip grower Jan Ligthart were at the scene for this official moment.
On April 28, 2016, another tulip was baptized. The new triumph tulip is called Tulipa Sesamstraat in honor of Sesamstraat. This time the tulip was grown by tulip grower Jac. Uittenbogaard & Sons. It is new and glorious, with its classically-shaped sunny yellow blooms. At the ceremony, Arjan Smit, Tommie, Elmo, Bert and Ernie were present.
External Links