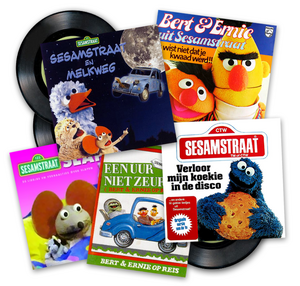 From its earliest planning stages, Sesamstraat was, like Sesame Street, designed to be a show that would use music and singing as a part of the material being taught. So it was only natural to release the musical content on records, not only to reinforce the curriculum lessons for children when they weren't watching the show, but also because Sesamstraat music is enjoyable just for its own sake.
The first two albums were released by Philips Records, and consisted mostly of American material dubbed into Dutch. In 1981, records began to be released on the WSP label. These albums were manufactured and distributed by Vrido Beheer, Rotterdam from 1981 to 1985, and over 18 titles were produced over the four-year run of the label, including reissues of the 2 Philips LPs with new cover designs. Weton-Wesgram took over the label in 1985. Their catalog included reissues of all of the previous albums. At first, titles were only issued on vinyl, but over the years, they were also produced on cassettes. All of the albums produced in this era had colorful covers with photos and drawings of the show's characters.
The first Sesamstraat CD was released in 1984. A mix of new titles appeared, along with reissues of older titles, including a CD of the very first album of Bert and Ernie songs. The new material on albums lasted until 1996. After that they produced only compilations of songs from past releases.
In 2005, a company called Rubinstein started to produce CD and booklet sets, which consisted of a book with short stories and a CD. In 2008 there came finally a new album on the market with song that was specially written for Sesamstraat by Henny Vrienten. Rubenstein came back with an other new item in 2010. The first time a member of the Dutch Royal family worked together on a story book that was produced specially for the readers and the visually handicapped readers. It's a book with letters, Braille and CD.
Album releases
See also
Community content is available under
CC-BY-SA
unless otherwise noted.