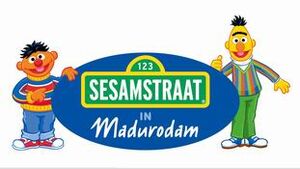 Sesamstraat in Madurodam is an exhibition at Madurodam, a tourist attraction in the Netherlands. Located in Schevingen, the Hague, Madurodam is a miniature scaled city recreating canals, trees, houses, and other Dutch sights, reproduced in 1:25 scale. The park opened in 1952.
The Sesamstraat exhibition ran from March 13 through October 2008, and will return to Madurodam from April 10 through September 6, 2009.
The exhibition depicts various Sesame Street characters, and includes walk-around versions of Bert, Ernie, and Elmo, available for photos. The set was specially build for this Exibit by design buro The Garage in Amsterdam. A large part of this set was re-used in for the Exposition Schuif Gezellig Aan in Helmond and Alkmaar.
External links