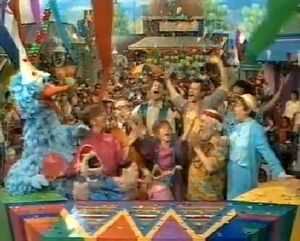 Sesamstraat Is Jarig (It's Sesamstraat's Birthday) is a 45 minute TV special from 1984 that celebrated the 2500th episode of Sesamstraat.
The special starts in the street, where Tommie does a complete report on all the festivities. The street set is crowded with children, there is a parade, and an airplane with a "Long Live Sesamstraat!" flag flies by occasionally. Tommie witnesses how everyone from Sesamstraat makes their entrance: Sien, Rudi and Pino arrive in a green car; Aart, Paula and Lex ride a bicycle; and Esther and Gerard come climbing out of a helicopter. Gerda makes her debut in a cameo appearance as a lady in the audience; in the next season, she would become a main character. Tommie gets impatient after a while: he wants to join the others at the party...!
The second half of the special takes place at the party, where everybody gets their turn singing the best songs from recent seasons.
In honor of the 10th anniversary, a slightly rewritten version of this special was recorded for a record album, Sesamstraat is Jarig. It features a few different songs, a few different actors, and a few different storylines, but it mostly follows the structure of the special.
Featured Songs
Performers
Community content is available under
CC-BY-SA
unless otherwise noted.