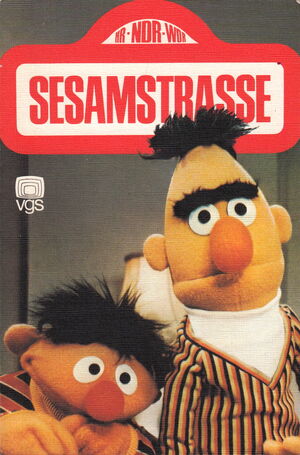 Sesamstrasse: Informationen für Eltern und Erzieher (Sesamstrasse: Information for Parents and Educators) is a series of four paperback books published in Germany in 1973 and 1974 by VGS (Verlagsgesellschaft Schulfernsehen).
Sesamstrasse, the German co-production of Sesame Street, debuted in 1973, and the first three seasons were episodes from the American series dubbed into German. For the first year, the broadcaster, NDR, published a series of learning guides for parents and teachers who wanted to know how to reinforce and build on the lessons that young children were learning from Sesamstrasse. The four volumes were released quarterly.
The books are written for adults, and don't contain any child-directed content; almost all of the content is text. There's a two-page spread in each volume identifying all of the Muppet characters (see below). There's also sheet music for a few songs; in volume 1, the songs include "Der, die, das" ("Sesamstrasse Theme"), "Ich mag müll" ("I Love Trash"), "ABC - gesang von Bibo" ("ABC-DEF-GHI") and "Malen, pinseln" ("Paint Brushes").
Each book had four sections. Part 1 is an introduction to Sesamstrasse, the Muppets, and the principles of using humor and songs in lessons for young children. Part 2 -- the majority of the book's content -- has suggestions for games and activities to reinforce the show's lesson plans. Part 3 has information about how to use television in pre-school education and television, and at home. Part 4 has a listing of the Sesamstrasse curriculum topics.
The books were written by Monika Eckert, Karlhans Frank and Gabrielle Köppe.