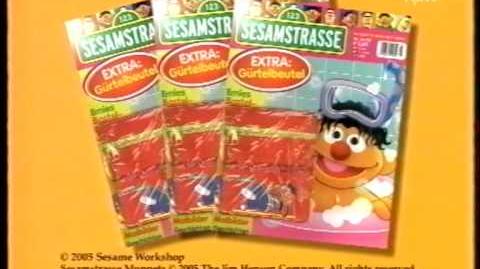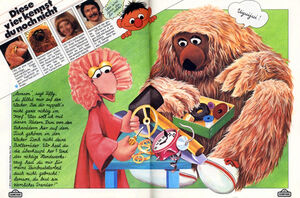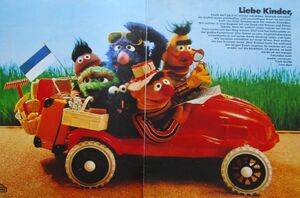 Sesamstrasse (aka Sesamstrasse Zeitschrift) is a monthly magazine geared towards children between ages three and eight, which is based on Sesamstrasse, the German co-production of Sesame Street. The magazine was launched in 1973. From the beginning, special holiday and compilation issues were published on the side throughout the year.
During the early 1980s, the monthly issues could only be purchased in stores; shortly after, mail subscriptions became available. The magazine, then published by Condor-Verlag, featured articles from the Dutch Sesamstraat magazine, as well as American contents (sometimes from books like The Sesame Street Dictionary) and German material. Another often used source for comic strip content was the Spanish series Epi / Blas ...y los demás; with one notable strip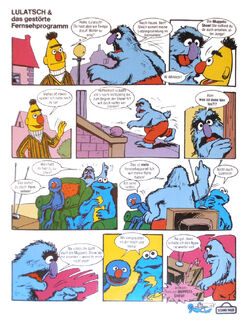 establishing Die Muppets-Show as Lulatsch's (Herry Monster's) favorite TV show in this translation.
Before the local street characters were introduced to German viewers of the TV show in 1978, the bimonthly magazine featured original American characters, and "CTW" on the logo for its first issue. On the following first dozen issues this was replaced with "HR · NDR · WDR," the initials for the German networks that aired the show. Each of these issues featured an illustrated poster of one main character, highlighting even such characters as Guy Smiley, Professor Hastings, Sherlock Hemlock and Little Bird. All posters taped together would eventually form an elaborate mega poster of the Sesame Street characters playing out on a summer's day. When the local characters were introduced on TV and in the magazine's stories, the logo was changed again, now reading "Für Kinder" (for children). Further the print paper and format were changed slightly, and the magazine was issued monthly.
Along with the introduction of the German characters, Dutch characters Tommie and Pino would regularly interact with Sesamstrasse characters Samson, Tiffy, and Finchen. Confusingly, the two foreign characters were never introduced to the magazine's readers as characters from the Dutch co-production, nor was an explanation provided as to why they were never seen on TV.
The magazine, sans the Dutch addition, exists to this day and can be purchased at any store that sells magazines, including grocery stores. When the Dutch characters were dropped, the logo was changed to mirror the updated American logo, simply reading "123" above the Sesamstrasse lettering. Publishing transitioned from Condor Verlag to Panini during the 1990s.
Regular Issues
Compilations & Holiday Issues
See also
External links
Community content is available under
CC-BY-SA
unless otherwise noted.