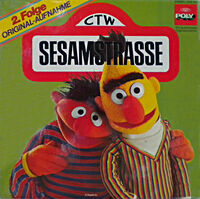 From its earliest planning stages, Sesamstrasse was, like Sesame Street, designed to be a show that would use music and singing as a part of the material being taught. So it was only natural to release the musical content on records, not only to reinforce the curriculum lessons for children when they weren't watching the show, but also because Sesamstrasse music is enjoyable just for its own sake.
The first few titles were released by Poly. These were deluxe albums, issued in colorful covers with photos of the show's characters. Europa began issuing CDs in 1994.
While most of the albums contain songs that are translations of the songs from Sesame Street, there are a few that feature original songs in German, sung by characters who are native to Sesamstrasse.
Album releases