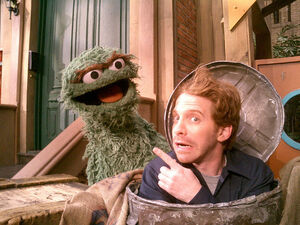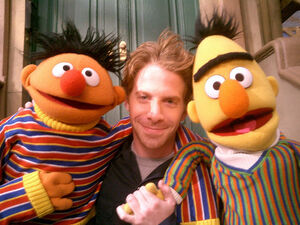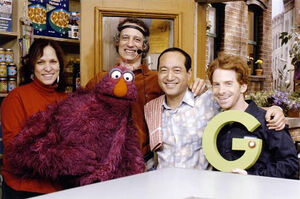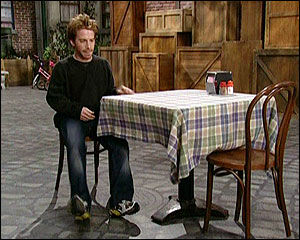 Seth Green (b. 1974) is an actor who guest starred in Episode 4074 in Sesame Street's 35th season as Vinny, a delivery man for the "Letter of the Month Club." He was also seen in the celebrity version of "Dance Myself to Sleep."
Green began his career as a child actor, playing thoughtful or eccentric kids in such films as The Hotel New Hampshire (with Jodie Foster), Without a Paddle (along with Matthew Lillard and Dax Shepard), Radio Days, and also appeared in the Steven King mini-series It (with Tim Curry). As an adult, he gained note for his portrayal of Oz, the laid-back musician/werewolf he played for three seasons on Buffy the Vampire Slayer, and as Scott, Dr. Evil's son in the Austin Powers movies. He also voices Chris on Family Guy and starred in the short-lived prime-time puppet series Greg the Bunny. Together with Matthew Senreich, he created Robot Chicken for Cartoon Network, which has featured some Muppet spoofs. He appeared on the Fox series Dads as Eli Sachs.
Quotes
TV Guide
Just how big a Muppet fan are you?
Put it this way: I was still wearing Sesame Street t-shirts when I was 17. I never really believed the Muppets were real, but at the same time, they kinda are real, you know? I had a very emotional reaction when I met them.
You're starting to scare me...
I hope I don't come off too crazy in the episode. I flew to New York to do Sesame Street directly from a three-month film shoot in New Zealand. I hadn't slept. I didn't shave. I looked insane.
"Sesame Street was the first TV that I ever watched; and it was the only TV that I watched for a couple years. It was actually what made me want to be an actor. It looked like everybody was having so much fun. (clip plays of "Somebody Come and Play") You know, the whole concept of imagination and pretending to be something stuck with me... (YouTube)"
External links