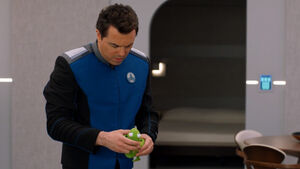 Seth MacFarlane (b. 1973) is an actor, writer, director, producer, and singer best known as the creator of several TV shows, beginning in the animation field. As a self-professed Muppet fan, MacFarlane has worked references to the Muppets into many of his shows including Family Guy, American Dad!, The Cleveland Show, Seth MacFarlane's Cavalcade of Cartoon Comedy, and The Orville.
In addition to voicing a parody of Kermit the Frog multiple times on Family Guy, MacFarlane has taken to doing his Kermit impression on multiple talk shows and other appearances. Some examples include PaleyFest LA in 2010, his monologue when he hosted Saturday Night Live in September 2012, The Graham Norton Show in May 2014, and Harry Connick, Jr.'s talk show in October 2017.
As a recording artist, MacFarlane's fourth studio album — In Full Swing, released in 2017 — includes a lounge style version of "The First Time It Happens" from The Great Muppet Caper. Notably, the song had not previously been covered by anyone outside of the Muppets, and features as the first track on the album.
In May 2018, MacFarlane tweeted a letter he'd sent to The Jim Henson Company when he was nine years old. In it, he boasts of a complete collection of Muppet Magazine, expresses meeting Jim Henson as his greatest wish, and includes drawings of Kermit, Fozzie Bear, and Sam the Eagle along with his own original characters.
MacFarlane's other credits include appearances on Will & Grace, Gilmore Girls, Star Trek: Enterprise, Crank Yankers, MADtv, Robot Chicken, FlashForward, Phineas and Ferb, The Simpsons, Futurama, and Cosmos: A Spacetime Odyssey (which he also produced, with Neil deGrasse Tyson). He also wrote, directed, and performed in the feature films Ted (with Mila Kunis) and Ted 2 (with Amanda Seyfried), and A Million Ways to Die in the West (with Charlize Theron, Liam Neeson, Neil Patrick Harris, and Sarah Silverman).