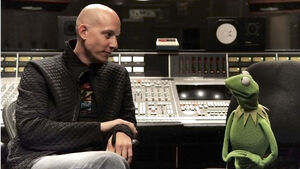 Sex, God, Rock 'n Roll with Stuart Davis & Kandyse McClure is a news-comedy hosted by musician Stuart Davis and actress Kandyse McClure who joined as co-host for the second season, with segments by Peruvian comedian-actress-model Mariann Gavelo, who regularly and "sensuously explores a rare English word -- in bed." The show airs on HDNet.
On January 12, 2012, Kermit the Frog appeared as a guest on Episode B of the second season. The official description is as follows: "The sexy word is 'apricate' and Stuart hangs out with Kermit The Frog. In the news - staring at breasts is good for you, and strippers at funerals. Candice [sic] shows us how to make a new Rocktail; The One Hit Wonder." The episode was taped on September 27, 2011 in Hollywood, CA.
See also
External links
Community content is available under
CC-BY-SA
unless otherwise noted.