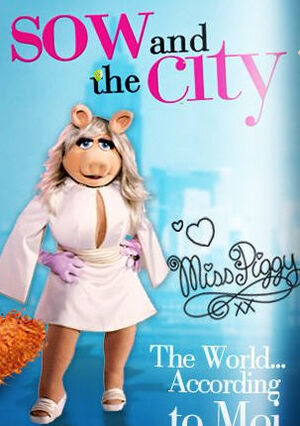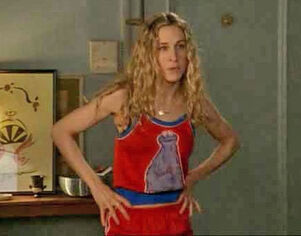 Sex and the City is a television show about sex columnist Carrie Bradshaw and her three best friends navigating love and relationships in New York City. The show originally ran on HBO and starred Sarah Jessica Parker, Kim Cattrall, Kristin Davis and Cynthia Nixon.
References
Sarah Jessica Parker appears in a Sesame Street insert (First: Episode 4211) where she claims she is waiting for "Big" (a reference to the Sex and the City character nicknamed Mr. Big). Super Grover tries helping her by bringing her things that are big, bigger and biggest, until the "Big" she is waiting for (Big Bird) arrives. A music button heard at the end of the sketch parodies the Sex and the City theme.
Muppet Mentions
In the season two episode "Old Dogs, New Dicks", Carrie wears a shirt featuring Cookie Monster.
In the season three episode "The Big Time", the following exchange takes place.
Steve: Oh, come on. I want a baby. It would be fun.
Miranda: It's not like owning a foosball table, Steve. You have any idea how much work a baby is?
Steve: Yea, yea I know. But, I could hang out with him during the day, you know watching Sesame Street with him, while you're at work, then I'd go work in the bar.
Miranda: And, I will be up all night with the baby alone, and get no sleep, and then have to get up the next day, and stay awake to work the fourteen hours I need to make partner, so I can afford the apartment you're watching all this Sesame Street in.
Steve: Let's hope the baby inherits my positive attitude.
Connections
Community content is available under
CC-BY-SA
unless otherwise noted.