(6 intermediate revisions by 3 users not shown)
Line 1:
Line 1:
 

[[Image:ShainaTaub.jpg|thumb|300px]]

 

[[Image:ShainaTaub.jpg|thumb|300px]]

 
 
−

'''Shaina Taub''' is a [[New York]]-based singer, song-writer and musician. Her works include personal EPs, a musical adaptation of [[William Shakespeare]]'s ''Twelfth Night'' produced with [[the Public Theater]] (and featuring Taub as Feste) and various concert and off-[[Broadway]] performances.

+

'''Shaina Taub''' is a [[New York]]-based singer, and musician. Her works include personal EPs, a musical adaptation of [[William Shakespeare]]'s ''Twelfth Night'' produced with [[the Public Theater]] (and featuring Taub as Feste) and various concert and off-[[Broadway]] performances.

 
 
−

Taub was brought on ''[[Sesame Street]]'' as a composer starting in[[season 46]]. Her first contribution was the music for "[[Just Like Magic]]," a duet between [[Sara Bareilles]] and [[Abby Cadabby]]. She later composed the [[season 47]] song, "[[No Playing Ball Inside]]."

+

Taub was brought on ''[[Sesame Street]]'' as a composer starting in[[ 46]]. Her first contribution was the music for "[[Just Like Magic]]," a duet between [[Sara Bareilles]] and [[Abby Cadabby]]. She later composed the [[ 47]] song, "[[No Playing Ball Inside]]."

 
 
−

She also has composed songs for ''[[Julie's Greenroom]]'', including the series' theme.

+

also composed songs for ''[[Julie's Greenroom]]'', including the series' theme.

 
 
 

==External links==

 

==External links==

 

*[http://shainataub.com/ Official site]

 

*[http://shainataub.com/ Official site]

 
 
 
+

__NOWYSIWYG__

 

{{DEFAULTSORT:Taub, Shaina}}

 

{{DEFAULTSORT:Taub, Shaina}}

 

[[Category:Composers]]

 

[[Category:Composers]]

 
+

[[Category:Lyricists]]
---
Revision as of 06:32, 11 September 2019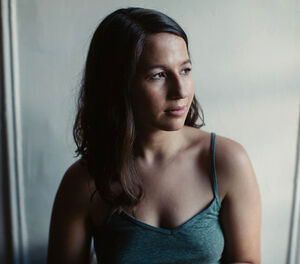 Shaina Taub is a New York-based singer, songwriter and musician. Her works include personal EPs, a musical adaptation of William Shakespeare's Twelfth Night produced with the Public Theater (and featuring Taub as Feste) and various concert and off-Broadway performances.
Taub was brought on Sesame Street as a composer starting in Season 46. Her first contribution was the music for "Just Like Magic," a duet between Sara Bareilles and Abby Cadabby. She later composed the Season 47 song, "No Playing Ball Inside." and "Just Around the Corner" for the 2017 special, The Magical Wand Chase, and music for the 2018 special, When You Wish Upon a Pickle.
Taub also composed songs for Julie's Greenroom, including the series' theme.
External links