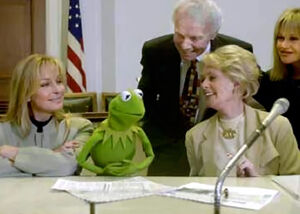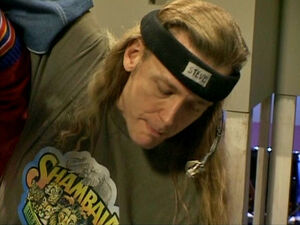 The Shambala Wild Animal Protection Act of 2000 was a proposed amendment to the United States Animal Welfare Act. During a press event on March 29, 2000, the bill was introduced to the US Congress by Representative Tom Lantos of California's 12th congressional district. Celebrities Tippi Hedren, Melanie Griffith, Bo Derek and Kermit the Frog appeared on Capitol Hill in support.
Speaking with the press, Kermit said that as a "representative of the animal kingdom," it was important to "pass this bill to prevent the continuing abuse and cruelty toward exotic animals in this country." After posing for photos with Derek, Hedren and Griffith, he went on to mention that he too would be endangered, "When I go home to Miss Piggy, I'm going to be in serious trouble."[1]
Benefits
Kermit and Steve Whitmire have attended a number of Shambala benefit events.
Sources
↑ The Associated Press article, 03/19/2000
External links