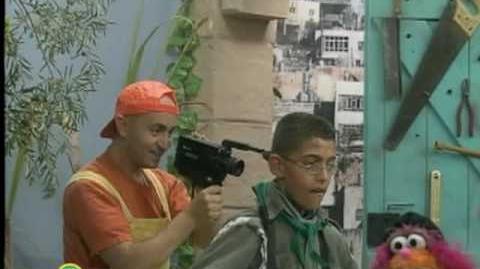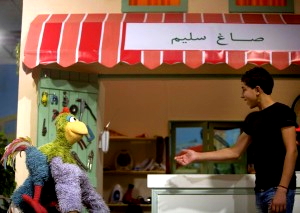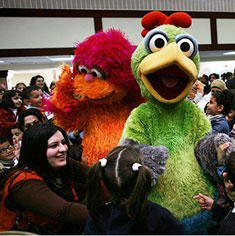 Shara'a Simsim is the current Palestinian co-production of Sesame Street, the successor to Rechov Sumsum — Shara'a Simsim, the Israeli-Palestinian joint venture, and Hikayat Simsim, the Palestine only series. It is produced by Sesame Workshop and Al-Quds Educational Television, and filmed in Ramallah.
The new series premiered in May 2007, and retains Kareem and Haneen from the earlier incarnations. A new cast member is actor Khaled Masou, who plays Salim, the Fix-It manager.
Gary Knell visited Ramallah for the first time in 2007, for the new series' third season's launch party.[1]
The program is broadcast in Arabic and Hebrew on the 10-station Palestinian Maan TV network.
Funding issues
Since a major source of funding is received through USAID, the show has been vulnerable to politics. Its 2012 season was suspended, when the United States government's $200 million in funding for Palestine was frozen; $40 million was restored in December, but none of that included USAID's funds to the program. Executive producer Daoud Kuttab talked to Associated Press about the issue, noting that "If we don't do the curriculum workshop we can't do the scriptwriting. If we don't do the scriptwriting we can't do the filming, and there are actors who have their own schedules." Danny Labin, a producer of the Israeli counterpart, agreed that the event was unfortunate. [2]
In early 2012, local producers talked to the media about the show's pre-production being halted, as a result of the United States Congress cutting its funding.[3] As of mid-January, Kuttab was finding smaller grants to help the show continue.[2]
On January 24, 2012, Rep. Keith Ellison of Minnesota brought an Elmo toy to the House of Representatives floor, when urging the US government to refund Shara'a Simsim. He pointed to the alternative for children's programming, like Tomorrow's Pioneers, which features a Mickey Mouse imitator that encourages anti-Semitism and violence. (YouTube)[4]
Cast
Crew
Sources
External links
Community content is available under
CC-BY-SA
unless otherwise noted.