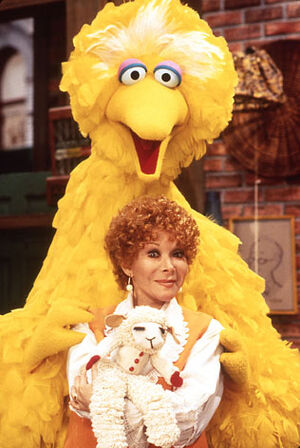 Shari Lewis (1933-1998) was a ventriloquist, actress, and puppeteer who is considered a pioneer of children's puppetry. Her most famous characters were Lamb Chop, Charlie Horse and Hush Puppy. Shari Lewis guest starred with Lamb Chop on Sesame Street in Episode 3525, and were also featured in a celebrity "Alphabet Song" rendition from that season.
When interviewed by USA Today following Jim Henson's death in 1990, Shari Lewis offered the following observations: "He raised puppeteering to an art form beyond people who just jiggle dolls. Lamb Chop and Kermit were very funny together. Kermit would get very rattled whenever she asked, 'So Kermie, how's the pig?'"
Lewis' awards include consecutive "Outstanding Performer in a Children's Series" wins from 1992 to 1996, beating Sonia Manzano, Jerry Nelson, Ruth Buzzi, and Martin P. Robinson. A 2002 win beat Kevin Clash.
External links