(7 intermediate revisions by one other user not shown)
Line 1:
Line 1:
 
+

[[Image:shariweiser.jpg|thumb|300px]]

−

'''[[Follow That Bird]]:''' [[Marie Dodo]] (body)

 
 
 
 
+

'''Shari Weiser''' is a diminutive actress who worked as a suit performer, playing [[Marie Dodo]] in ''[[Follow That Bird]]'' and [[Hoggle]] in ''[[Labyrinth]]''. She was interviewed in ''[[Inside the Labyrinth]]'' and later worked on ''[[Free to Be... a Family (special)|Free to Be... a Family]]'', briefly playing the [[Unemployed Bear]] in full-body shots.

−

'''[[Labyrinth]]:''' [[Hoggle]] (body)

 
 
 
 
+

Weiser also worked as a suit performer in the TV movie ''Babes in Toyland'' (with [[Drew Barrymore]], [[Richard Mulligan]], and [[Pat Morita]]).

⚫
 
 
+
 
+

==External links==

 
+

* [http://www.imdb.com/name/nm0918786/ IMDb]

 
+
 
+

__NOWYSIWYG__

 
+

{{DEFAULTSORT:Weiser, Shari}}

 
⚫
 
+

[[Category:Creature Shop Puppeteers]]
---
Latest revision as of 23:18, 22 September 2018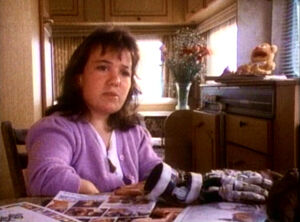 Shari Weiser is a diminutive actress who worked as a suit performer, playing Marie Dodo in Follow That Bird and Hoggle in Labyrinth. She was interviewed in Inside the Labyrinth and later worked on Free to Be... a Family, briefly playing the Unemployed Bear in full-body shots.
Weiser also worked as a suit performer in the TV movie Babes in Toyland (with Drew Barrymore, Richard Mulligan, and Pat Morita).
External links
Community content is available under
CC-BY-SA
unless otherwise noted.