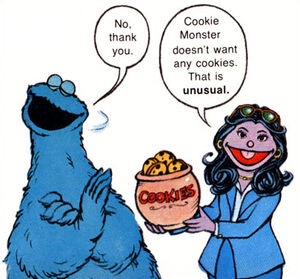 Sharon Lerner is an author, producer, lyricist and writer. She served as CTW VP and Creative Director for all Sesame Street toys, books and records for 10 years.
Lerner was one of the first ten people hired at Children's Television Workshop, originally as an educator and researcher and eventually joining the products group to create Sesame Street products.
Lerner was immortalized in The Sesame Street Dictionary under the entry for "unusual," as drawn by Joe Mathieu. She is the author of many Sesame Street books, including Big Bird's Busy Book (1975), Big Bird's Copycat Day (1984), Big Bird Says... (1985) and Follow the Monsters! (1985).
Lerner currently writes children's books for Random House, including a 2009 retelling of Black Beauty. Lerner also writes political satire songs with Emily Kingsley for a cabaret in New York City.
Credits
Books
Songs
Non-Henson Credits
Between the Lions (writer, animation and live action film producer, lyricist)
Black Beauty retold by Sharon Lerner (illustrated by Susan Jeffers and published by Random House)
Community content is available under
CC-BY-SA
unless otherwise noted.