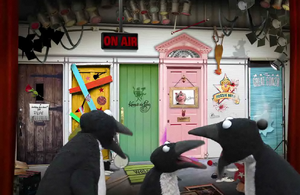 "Shave and a Haircut" and the associated response "two bits" is a simple, 7-note musical couplet popularly used at the end of a musical performance, usually for comic effect. The first known occurrence of the tune is from an 1899 Charles Hale song, "At a Darktown Cakewalk", while it wasn't until a 1939 song (with Milton Berle) "Shave and a Haircut - Shampoo", which used the notes near the end, that the brief tune had lyrics.
Muppet usage
Sesame Street: The song is used as the music sting to a Cookie Monster sketch.
Muppets Tonight, episode 107 (1996): As the punchline to a riff on the famous Mah Na Mah Na sketch, with Kermit and Sandra Bullock, Doglion manifests when Sandra says "Shave and a haircut" (to add "Two bits").
Disney Xtreme Digital (2008): One of the possible outcomes of the "Do Not Touch" button is three penguins who sing "Shave and a Haircut".
Sesamestreet.org (2011): After the primary introductory segment for "Letter Q Day", and one filler spot, Big Bird is singing quietly, ending louder with "dum dee dum dum"s to the music of "Shave and a Haircut."
Sesame Street at SeaWorld (2019): The Sunny Day Salon's front window advertises its many services and fees. A "Shave and a Haircut" is listed, with the original price (1 Bit) crossed out and "2 Bits" written over it.
Community content is available under
CC-BY-SA
unless otherwise noted.