Written by
anonymous
Date
mid-late 19th century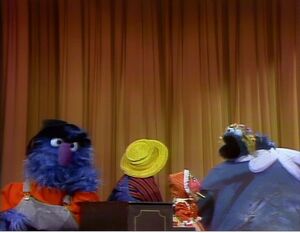 "She'll Be Coming 'Round the Mountain" is a traditional American folksong typically sung by children. It was sung during the Rocky Mountain Holiday special. It has also appeared on a number of Sesame Street albums and videos, as well as the Sesame Street Live show 1-2-3 Imagine.
The Jimmy Dean Show
In the March 5, 1964 episode, Rowlf the Dog plays a snippet of the song on Jimmy Dean's guitar, before accidentally breaking it.
In the January 14, 1966 episode, Jimmy claims that country music has its origins in opera, such as Carmen. He sings, "She'll be Carmen 'round the mountain..."
Rocky Mountain Holiday
During a flashback to a trip when Miss Piggy arrived in the mountains with an orchestra and an entourage, the Muppets sing "She'll Be Coming 'Round the Mountain". The song also appears on the soundtrack for the special.
Two years later, Denver and Kermit the Frog sang the song together at the American Embassy in Russia during Denver's 1985 concert tour.
Sesame Street
The song was used in a pageant sketch, as performed by Prairie Dawn, Herry Monster, Ernie and Cookie Monster, playing the titular "she" who has difficulty going around the mountain.
Elmo and a horse later performed the song in Elmo's World: Wild Wild West!
Sesame Street audio releases
Sesame Street video releases
Community content is available under
CC-BY-SA
unless otherwise noted.